Hot Or Knot? Dita Von Teese Shows Some Skin In Brown Cutout Dress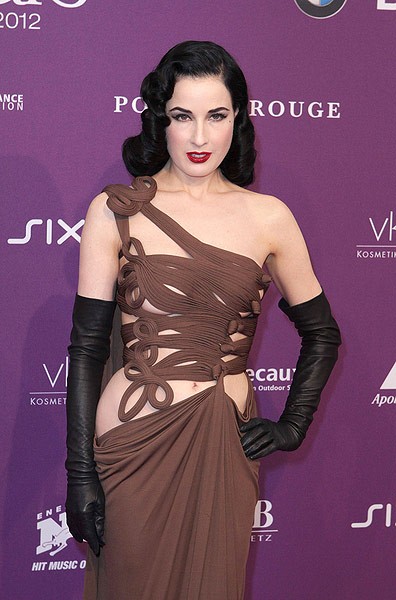 Burlesque dancer Dita Von Teese wore an interesting brown dress to the Duftstars Awards in Berlin, Germany on Friday, featuring several skin-revealing cutouts and exposing her hips, belly and even a little more if you look closely enough.

"Hmmmm...Wearing quite a risqué [Jean Paul Gaultier] gown tonight to the perfume awards in Berlin. This might require a merkin," she Tweeted while getting ready, along with a picture of "The dress..." (see a close-up on the next page).

Apparently Dita's red-carpet experience was less than desirable at the event.

"Some photographer still had the audacity to tell me to 'show some leg'," she tweeted after making her entrance.

The former wife of Marilyn Manson also tweeted her condolences for late Beastie Boy Adam Yauch, admitting that the late star's music has played a big part in her day-to-day life.

"Sad to hear of the passing of Adam from The Beastie Boys, they're prominent on my 'gettin' ready for a show' playlist. Rest in peace," she writes.