Hot Legs: Victoria's Secrets Bombshells Reveal 'What Is Sexy?' List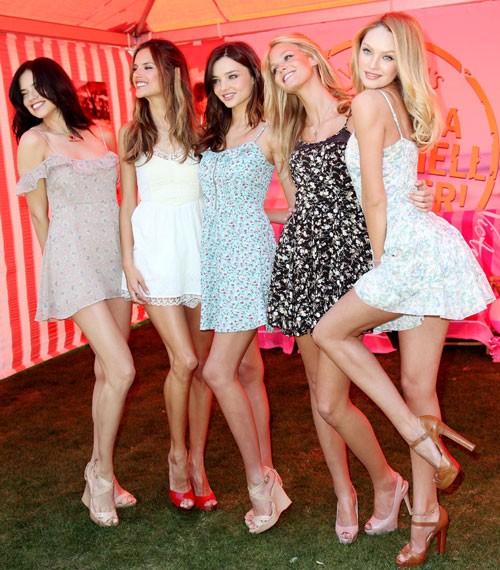 Victoria's Secret Bombshells Adriana Lima, Alessandra Ambrosio, Miranda Kerr, Erin Heatherton and Candice Swanepoel revealed the What is Sexy? list and kicked off The Bomshell Summer Tour in Los Angeles yesterday.
Last month Candice dismissed reports she has an eating disorder following the publication of disturbing photos that suggest she's looking significantly thinner. She told People magazine, "I am healthy and happy. I'm heartened to know how much everyone cares about me, but in this case, everything is normal and good."
Meanwhile, Miranda had a baby just three months ago and looks fantastic!
So who made the sexy list? Check it out:

Sexiest actress: Emma Stone

Sexiest summer style: Beyoncé

Sexiest legs: Julianne Hough

Sexiest smile: Dianna Agron

Sexiest eyes: Mila Kunis

Sexiest lips: Amanda Seyfried

Sexiest curves: Sofia Vergara

Sexiest TV cast:Vampire Diaries

Sexiest songstress: Rihanna

Sexiest beach body: Minka Kelly

Sexiest sense of humor: Chelsea Handler

Sexiest chef: Giada De Laurentiis

Sexiest international import: Malin Akerman

Sexiest beach waves: Vanessa Hudgens

Sexiest sun-kissed glow: Jessica Lowndes

Facebook fans' choice: Sexiest up-and-coming bombshell: Jennifer Lawrence

Facebook fans' choice: Sexiest tweeter: Ashley Greene