'Hot In Cleveland' Heats Up TV Land
Betty White, who's been on the A-list for a prodigious seven decades, continued her broadcasting reign when her new sitcom, "Hot in Cleveland," premiered on TV Land Wednesday night.

Co-starring with White are: Valerie Bertinelli ("One Day at a Time" star and Jenny Craig spokesperson), Jane Leeves (Daphne from "Frasier") and Wendie Malick (most recently, "Pushing Daisies").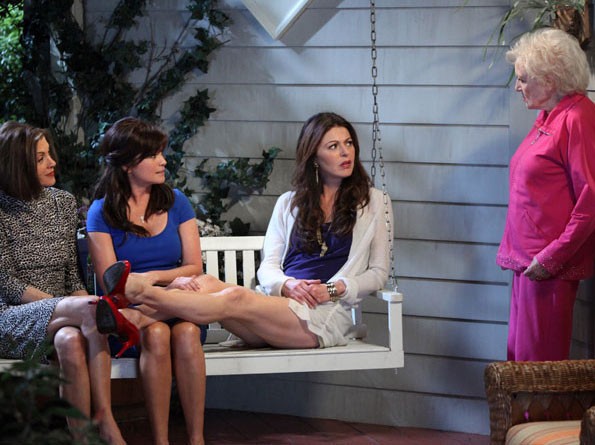 The TV Land original follows three female friends "of a certain age" (Bertineli, Leeves and Malick) who, while en route to Paris from LA, make an emergency crash landing in Cleveland.  While detained, the La-La Land transplants take an unexpectedly quick liking to the Midwest's cheaper lifestyle, chili fries-serving dive bars, and average Joes who pass on manscaping (who also "look at" the leading ladies, "not past them").  Following their impulses, they decide to relocate permanently.

While the contrived plot is hard to ignore, it's worth noting the show's old school feel.  Maybe it's the familiar faces, or maybe it's White's voice telling us that "'Hot in Cleveland' is filmed before a live studio audience" in the cold open.  Either way, there's a certain je ne sais quoi that makes the show feel accessible, comfortable.

"Hot in Cleveland" makes rather extensive use of the "menopause is sexy" approach, with not-so-occasional jokes about failed relationships, physical appearance and age. "I'm too young to die -- though it's nice to still be too young for something," Malick groans as the plane goes down.

But the actors, who are all show biz vets, deliver the material with solid skill and professionalism.  

And no one is more seasoned than the irreplaceable Betty White, who plays Elka, cheeky caretaker of the property that Bertinelli buys on a whim.  Upon meeting Elka, Leeds asks, "Do you smell pot?"  White: "Why, are you a cop?"

White's comic timing is consummate, and while everybody loves her personality, she is truly one of the best in the business.  The rest of the ladies don't disappoint, either ("I Googled 'Cleveland' and 'get hammered,' and this is what came up," Malick says upon entering the local bar).

For the cable channel's first stab at an original scripted sitcom, "Hot in Cleveland" is polished enough to appear on a major network.  Whether the overdone cougar humor or far-fetched storyline will get a lot of milage remains to be seen, but the accomplished and extremely likable cast make the show a delightful addition to the summer schedule.

If you missed last night's pilot, the rerun airs this Saturday at 11 a.m. on TV Land.