Hot Chick With Weapons: Zoe Saldana Wields A Submachine Gun (Photos)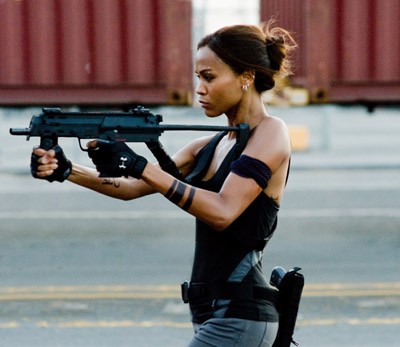 Zoe Saldana is hot right now.  What are we saying? She's always been hot!  The "Avatar" star looks particularly sexy wielding this submachine gun in her upcoming film "The Losers." Yowza!
The Vertigo comic adaptation centers on a team of mercenaries who wage war on the CIA after they're double-crossed in the field and left to die.
Clay (Jeffrey Dean Morgan), Jensen (Chris Evans), Roque (Idris Elba), Pooch (Columbus Short), and Cougar (Óscar Jaenada) were on a blacks ops mission in the Bolivian jungle when rogue CIA agent Max (Jason Patrick) hung them out to dry. After beating the odds and surviving their ordeal, the team decides to strike back against Max even if it means sacrificing their own lives to do so.
Aiding them on their treacherous suicide mission is sexy operative Aisha (Zoe Saldana), who has her own reasons for wanting to see Max get his just desserts. But getting to Max won't be easy, because in addition to having the CIA on his side, he's about to spark a war that could plunge the entire globe into chaos.
Their time quickly running out as Max's plan kicks into overdrive, the Special Forces unit that everyone assumed dead arms themselves to the teeth and prepares to strike back with a vengeance.