Horse-Racing Show 'Luck' Hit With New Animal Cruelty Complaints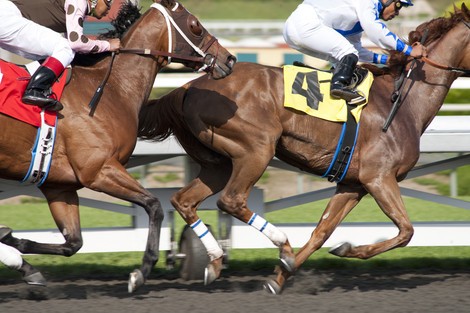 Producers behind Dustin Hoffman's axed horse-racing drama Luck have been hit with fresh animal cruelty complaints from activists at the People for the Ethical Treatment of Animals (PETA).

David Milch and Michael Mann ceased production on the HBO show in March after a horse was humanely put down following an accident at the studio's stables. It was the third equine death since filming began at California's Santa Anita racetrack.

PETA bosses celebrated the series cancellation after weeks of campaigning, but their joy at the show's end has been tinged with sadness after uncovering further claims of animal cruelty related to the program.

Animal rights chiefs filed legal papers with the Los Angeles District Attorney's Office and the California Veterinary Medical Board on Thursday, alleging, among other charges, that horses were underfed to save money and some were tranquillised to keep them docile for filming.

Senior Vice President of PETA, Lisa Lange, tells The Hollywood Reporter, "These documents appear to reveal what Luck executive producers David Milch and Michael Mann have repeatedly denied: that horses were mistreated and endangered on a daily basis. HBO says... it lost $35 million with the cancellation of Luck, but the horses paid a much bigger price. The authorities can take action now to send a message that cruelty to animals for the sake of 'entertainment' - or for any reason - will not be tolerated."

Network executives have previously denied several animal cruelty allegations, insisting they worked closely with racing industry experts and members of the American Humane Association to implement safety protocols that went "above and beyond" typical filming standards.