Hopalong Cassidy's Palm Desert Home Auction Is June 2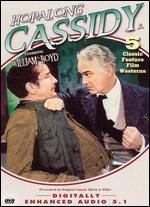 The desert hideaway of one of America's best loved cowboy-actors,
William Boyd
a.k.a. "Hopalong Cassidy," is being auctioned June 2 by Pacific Auction Exchange.
"This is a great opportunity to own a piece of TV western history," said Mario Hernandez, a Rancho Mirage contractor and owner of TileCare Company, who restored Boyd's home to the glamour of yesteryear. "The house is basically white and black, just like Hoppy's black western garb and his white horse Topper."
Hernandez now owns the two-bedroom, 1.75-bathroom, 1,892-square-foot home, which served as winter retreat for Boyd and his wife Grace from 1955 to 1971. Boyd was 77 when he died in 1972. Boyd was honored with a hiking trail named for him in the foothills of Palm Desert.
Besides the house auction, more than a chuck wagon full of western and personal memorabilia from Boyd's home will be on the auction block June 4 at Bonham & Butterfields Auctioneers in Los Angeles. To view Hoppy's house and memorabilia online, click to hoppyhouse.com
Many of the 35 plus historic items, including authentic saddles that were mounted atop bar stools William Boyd's home here, will be available for sale. Other items include bolo ties, a vintage radio and exercise bike, bass violin, brass horse door knockers, a coffee cup with Hoppy's portrait, furniture and artwork from the estate home.