'Honey Boo Boo' Star Mama June Ties The Knot - See Her Camouflage Wedding Dress & More!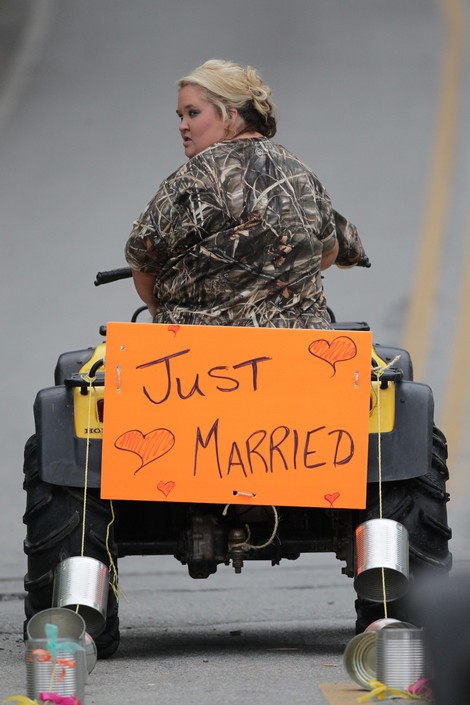 "Here Comes Honey Boo Boo" star Mama June celebrated her marriage to Mike "Sugar Bear" Thompson in McIntyre, Georgia, over the weekend, and we have some awesome photos from the event!
June, 33, wore a camouflage gown with sparkly sneakers, while Sugar Bear, 41, opted for matching camouflage pants and a bright orange hunting vest. Daughter Alana (a.ka. Honey Boo Boo) stood out in a neon pink, ruffled pageant dress.
The couple tied the knot outside their home on Sunday, May 5, with June's daughters Pumpkin, Chickadee and Chubbs also celebrating with a BBQ and homemade cake.
Instead of the traditional drive away from the chapel in a fancy car, June and Sugar Bear drove around on an ATV decorated with a "Just Married" sign and empty paint cans rattling behind them. At that point, June changed into a different camouflage outfit.  The day apparently also involved swimming because Honey Boo Boo strolled around in a pink two piece.
June tole People: "The day was very special mostly because my girls were able to take part in it. I felt like it was important for them to see this moment and celebrate my love for Sugar Bear."
TLC cameras filmed the festivities for the upcoming season, which kicks off in July.
Check out more photos from the wedding...