Honey Boo Boo Is Back On 'Toddlers & Tiaras' & 'Here Comes Honey Boo Boo'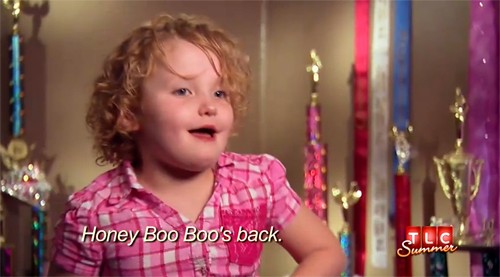 In tonight's all-new episode of "Toddlers & Tiaras," the infamous 6-year-old Alana, also known as Honey Boo Boo, makes her triumphant return to the pageant circuit.
Honey Boo Boo is back and crazier than ever in Atlanta, Georgia. But this time she has stepped it up and plans to wow the judges with her brand new routine.
Meanwhile, Destiny, 5, learns that beauty is pain, but it pays off when she brings it in her gymnastic floor routine.
Deseray, 8, also works tirelessly to perfect her routine complete with a back handspring. Every contestant is going for the gold in the city that hosted the 1996 Olympics. Tune in at 9/8 central.
Immediately following "Toddlers & Tiaras" at 10/9 central is "Here Comes Honey Boo Boo." The brand new series centers on the outrageous life of Honey Boo Boo and her crazy family.