Hometown Critics Hard On 'American Idol' Champ Lee DeWyze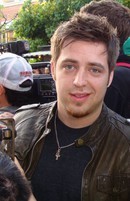 Chicago native and "American Idol" champ Lee DeWyze received chilly reviews from the Windy City's music critics last weekend.
DeWyze has been performing with the rest of last season's top ten finalists on the American Idols Live! 2010 tour this summer, and the show brought them to DeWyze's stomping grounds on Saturday.  The Chicago Tribune didn't sound too impressed with the raspy singer-songwriter, calling his set "not particularly memorable," and said he looked like "Guy Fieri's evil twin."  The Chicago Sun-Times called him "a dime-a-dozen coffeehouse player" and "personality-free."
DeWyze, 24, did receive critical support from his hometown, however: Chicago's Daily Herald said "the night belonged to Lee," and that he delivered a solid set of his "Idol" hits, like Leonard Cohen's "Hallelujah" and the Temptations' "Treat Her Like a Lady."
The concert was held at the United Center, the same venue at which DeWyze initially auditioned for the show last summer.  The Daily Herald reported the arena was "filled up about three-quarters" Saturday night.
While he's relatively new to the national stage, DeWyze is hardly a greenhorn musician, especially in the Chicagoland area.  At 17, he was signed to an indie record label when he was spotted singing and playing guitar at a house party in Chicago.  After forming the Lee DeWyze Band with three other guys, the group released two albums, one in 2007 and another in 2010.  The band toured locally, and even got some radio play time on Chicago's WXRT.
DeWyze also proved popular with many "Idol" viewers, who voted him as the winner over long-standing frontrunner and Etheridge-ish guitarist, Crystal Bowersox.  "Lee" was a trending mainstay on Twitter during and after the show's broadcasts, and he (along with Bowersox) never landed in the bottom three vote-getters.
American Idol Live! wraps up Tuesday night in Indianapolis.