Homeless Man Sues Eminem Over Commercial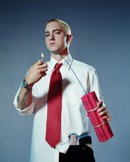 Rapper Eminem is facing a lawsuit from a homeless man who alleges the star stole the idea for his Chrysler commercial.

The advert debuted during last year's Super Bowl and now Stephen Lee Pieck has filed a handwritten lawsuit at the United States District Court in New York.

In the papers, obtained by AllHipHop.com, Pieck alleges he was in a Legal Seafood restaurant with Christina Aguilera and her then-husband Jordan Bratman when the singer reportedly rang the hip-hop star.

Pieck alleges Aguilera then passed him the phone and it was then that he gave Eminem the idea for the commercial, which lasted two minutes and contained the rapper's hit song Lose Yourself.

The lawsuit, which was filed on January 12th, states, "I want the court to reward me a judgment in the amount of $9 million. I designed every aspect of the commercial and the commercial was stolen from me. In addition, I did not receive compensation in monetary terms for the work I did."