'Homeland' Recap: Season 2 Premiere 'The Smile'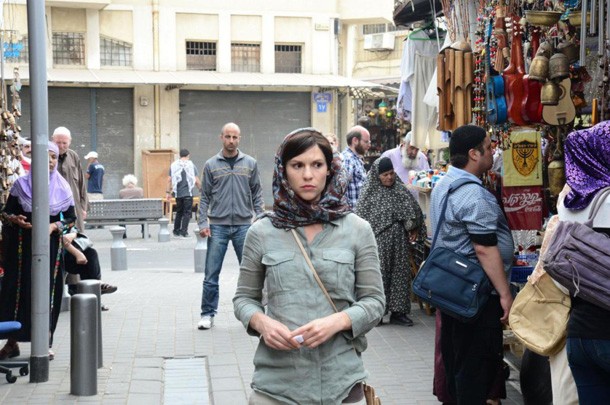 After several much-deserved Emmy wins (for Lead Actor and Lead Actress in a Drama Series as well as for best Drama Series), Homeland proved that their freshman season was not a fluke with last night's explosive opener to Season Two. After a mind-scrambling first season that had more twists and turns than any modern television series, Homeland promises more action and excitement as the war for America's safety comes right to our doorstep. The episode itself was fantastic and sets up a wide range of stories that could develop throughout this season. 
Picking up a few months after Season One ended, "The Smile" focuses on where Carrie (Claire Danes) and Brody (Damian Lewis) are after they went their separate ways. After her breakdown in last season's finale, Carrie agreed to undergo electroshock treatment to get her bipolar disorder under control. She's now teaching ESL classes to new U.S. citizens and spending far too much time gardening, according to her sister, Maggie (Amy Hargreaves). 
Brody, meanwhile, is a United States Congressman and we find out quickly that Vice President William Walden (Jamey Sheridan) is interested in Brody as a potential running mate when he begins campaigning for President. Brody is, of course, interested, but soon has bubble burst when a mole for Abu Nazir (Navid Neghaban) pays him a visit to 1) remind him of his sworn loyalty to the Al Qaeda leader, and 2) to give him an assignment that will betray the United States and thereby prove his dedication to their cause. 
The reason Homeland is so brilliant is because we are never quite sure what the characters will do. Carrie is, by nature, unpredictable (which has gotten her in trouble many times) and Brody professes his allegiance to Abu Nazir, but he seems genuinely interested in becoming Vice-President and protecting America. Brody does complete his mission (stealing information from CIA chief David Estes, played by David Harewood) and admits to his wife, Jessica (Morena Baccarin), that he is a Muslim. We get hints, though, that he no longer believes in the mission he has sworn to complete. 
Homeland also wastes no time getting Carrie back into the field. Saul (Mandy Patinkin) is contacted by one of Carrie's former agents, but she will only speak to Carrie. Saul and David both plead for her to return to Beirut to speak with the woman because she claims to have very important information. In probably their worst decision yet, the CIA sends an incredibly unstable former agent into a very dangerous and volatile situation. Not surprisingly, things don't go very well.
Without a doubt, this season is going to be just as fantastic as last season. The teaser at the end of the episode sets up a number of possible plot points and just as much head-scratching revelations as the first season.