'Homefront' Review: Jason Statham Doesn't Disappoint In Latest Action Thriller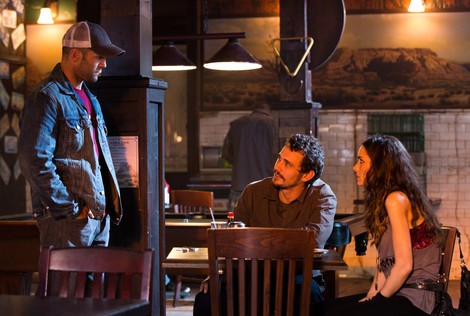 The thing I like the most about a Jason Statham film is I know exactly what I'm going to get; lots of action, violence, and Jason kicking major butt. And that is exactly what happens in his new film 'Homefront,' written by Sylvester Stallone and based on the novel by Chuck Logan.

Statham plays widowed ex-DEA agent, Phil Broker, who retires to a peaceful Southern town in order to raise his 10 year old daughter, Maddy (Izabela Vidovic). Boy is he surprised when he finds out this town is definitely not MAYBERRY.

In fact, it doesn't take long - thanks to a chain of events involving a little boy seriously in need of Weight Watchers - before Broker is forced to face off with Gator Bodine (James Franco), the local sociopath Meth kingpin, as well as some really evil dudes from his past.

At the same time, Broker is mourning the loss of his wife, who just recently passed away.

What separates 'Homefront' from your every day action film, is that it's filled with some really interesting characters; my favorite, being Kate Bosworth, who plays Bodine's sister, Cassie Klum. Miss Klum is one extremely volatile, irrational and dangerous lady, who just happens to be a meth head; definitely not a good combo.
Rounding out the cast is Winona Ruder, as Sheryl Mott, Bodine's drug addict/hooker, girlfriend and Frank Grillo, as someone you do not want to meet in a dark alley or any other kind of alley.
'Homefront' directed by Gary Fleder ('Runaway Jury') is an edge of your seat thriller and if you're a Jason Statham fan or a fan of this genre, you won't be disappointed.
I gave 'Homefront' which opens in theatres, Wednesday, November 27, 2013, three bagels out of five.
Check out our video for John's bagel rating and for more of our thoughts.
Please SUBSCRIBE to our channel on YouTube and LIKE us on our Two Jews on Film Facebook page.
Thanks everyone and let us know what you think.