Holy Hot Mess! Meet The 'Real Housewives of New Jersey'

Just when you thought the
Real Housewives
' series couldn't get any better? Think again!
The Real Housewives of New Jersey
are coming to a TV screen near you on May 12.
The characters from New Jersey are even better than the entire RH cast put together- the producers must have searched high and low for the most outrageous NJ stereotypes. We are sure that everyone from Jersey is cringing at the thought of these women representing their home state.
Meet the Cast:
Jacqueline
The most likeable of the bunch so far, this might be because she's not actually related to any of them? Although we are questioning her previous job as "former cosmetologist from Las Vegas," because if that really was the case- why does she let the other girls on the show run around looking like they do?
Danielle
She prides herself as being the first woman in New Jersey to have a Black AmEx card. Just a tip for you Dani? Black AmEx cards can't buy you class and potential male role models for your kids probably wouldn't be the guy that calls himself "Gucci Model" on an internet dating site.
Teresa
This one is going to turn out to be the wackiest of the group, we can just feel it (or perhaps it was because of the clip of her flipping a table over on someone?). She starts of the show by saying, "a typical Jersey girl is big hair, fake nails, and airbrushing," if that's any indication of what's to come. We are also perplexed as to why she calls boobs "buhbies" since her 3 year-old seems to know the correct pronunciation.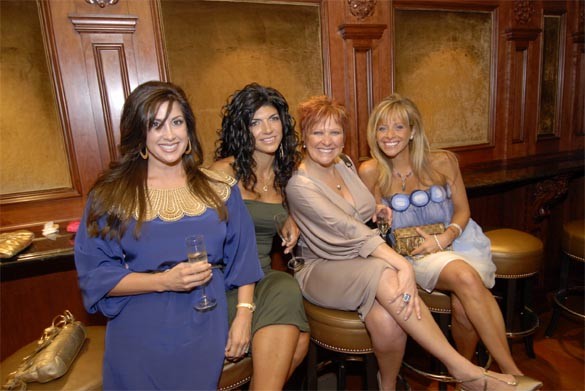 THE REAL HOUSEWIVES OF NEW JERSEY -- Pictured: (l-r) Jacqueline Laurita, Teresa Giudice, Caroline Manzo, Dina Manzo -- Bravo Photo: Andrei Jackamets
Dina
We are on the fence about her, as she does have a charitable cause that she does a lot of work for. We think the real story here will be with her daughter who declares, "If I had like, a fat old mom, I'd hate it."
Caroline
One word, scary! Meanwhile, one of her sons is trying to figure out how to get his "strip club/car wash" business off of the ground- any financial backers out there?
It doesn't get any more real than this, are you ready? Or, do you at least have a TV screen big enough for the teased hair?
Story by
Kristen Schoels
Starpulse contributing writer