Hollywood Psychics Predict The Future Of Our Favorite Celebrity Couples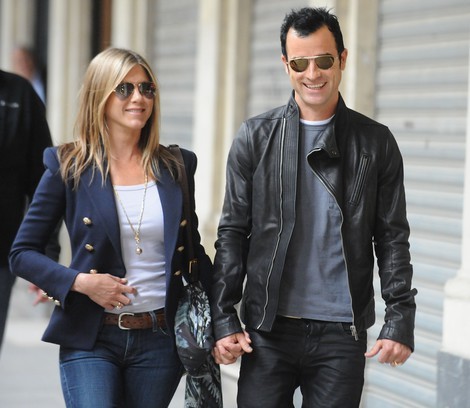 Look forward to some long relationships and engagements this year because many of our favorite celebrity couples won't be tying the knot this fall, according to 57 professional readers from the popular psychic service Hollywood Psychics.
For example, Jennifer Aniston and Justin Theroux won't become husband and wife this year. "There will be delay after delay," predicted one psychic. It's more likely they will tie the knot over the holidays or in 2013, if at all. We're rooting for you, Jen!
And one psychic told Starpulse exclusively that the reason Kristen Stewart and Robert Pattinson are having problems is because sex is a priority for the actress (she is 22, after all), and she wasn't satisfied in bed!
Former "That 70s Show" co-stars Mila Kunis and Ashton Kutcher probably aren't in it for the long haul. Sixty-five percent of the psychics surveyed said Mila is "just a distraction." Plus, she's also a rebound. As for Ashton, "there is no balance in his life right now. He's more inclined to embrace chaos."
Eva Longoria and Mark Sanchez aren't expected to wed anytime soon either. Sixty-one percent of the psychics predicted that the NY Jets quarterback will not be popping in the near future. "She'll meet someone else and drop him like a football," said one psychic. Another added: "His soulmate is blonde and she has yet to come." Hmmm, which blonde could that be?
What about Sharon Stone, 57, and her much younger boyfriend Martin Mica, 27? Fifty-three percent of the psychics thought the actress would be able to hold on to the male model at least through the end of the year. Although, one psychic noted, "basic instinct tells us not much longer." Enjoy it while it lasts, Sharon!
Forty-four percent of the psychics think Kim Kardashian and Kanye West will wed, and the same percentage think Ryan Gosling and Eva Mendes will get engaged before 2013.
Unfortunately, 42 percent believe Emma Stone and her "Spider-Man" co-star Andrew Garfield will no longer be together by fall. Bummer!
Hollywood Psychics provide psychic readings by phone and online chat. Visit them online at www.hollywoodpsychics.com.