Hollywood Muscle Guys Who Have Starred In Ridiculous Movie Roles

Dwayne Johnson
's latest movie role as a tutu wearing male Tinkerbell in "
Tooth Fairy
" is another embarrassment in the long line of embarrassments for Hollywood muscle guys. For some reason, the muscle guys of Hollywood think it's a good idea to go from starring in action movies to starring in Disney kid movies or movies that muscle guys shouldn't be in. Let's take a look at some of the muscle guys who have starred in the most ridiculous movie roles.
Sylvester Stallone
Famous for his movie roles as Rocky Balboa and John Rambo, Sly Stallone is one of the biggest movie muscle guys in Hollywood ever. His resume is filled with box office hit movies. The one dent in his resume is the 1992 film "
Stop! Or My Mom Will Shoot
." In the film, Stallone plays a cop who's mother interferes in his police work. Stallone claims that this was the worst film he's starred in and ever made. No one can disagree with him. The film won three Golden Raspberry Awards for Worst Actor, Worst Actress, and Worst Screenplay.
Arnold Schwarzenegger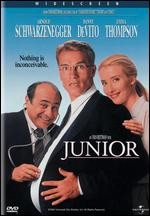 In the late eighties and early nineties, there wasn't a bigger movie muscle guy than Arnold Schwarzenegger. The bodybuilder turned actor starred in action movies like "
Predator
," "
Total Recall
," and of course "
Terminator
" movies. But in 1994, Schwarzenegger decided to star in the movie "
Junior
," where he plays a gynecological scientist who ends up pregnant after an in vitro fertilization- like experiment. Schwarzenegger's character later has the baby via caesarean section and names her, Junior. This is without a doubt, Arnold's worst film ever. One has to ask, "How does Arnold go from playing a futuristic cyborg in "The Terminator" to playing a pregnant man in "Junior?" What was he thinking? We will never know. It's a good thing he decided to go into politics, or else we would have seen "Junior 2."
Hulk Hogan
Before pro wrestlers like Dwayne Johnson became big movie stars, Hulk Hogan was the biggest wrestler turned movie star. While displaying his tough side by body slamming and delivering leg drops to his opponents in the ring, Hogan was also showing his soft side on the big screen as a nanny. In his 1993 film "
Mr. Nanny
," Hogan plays an ex-wrestler turned bodyguard who is assigned as the nanny for two kids. If you think that movie role was bad, three years later Hulk starred as a man who believes he's Santa Claus in "
Santa With Muscles
." Many believe that this is one of the worst movies of all-time. These days Hulk should just stick with reality TV and pro wrestling.
Shaquille O'Neal
During the Shaq attack era in the mid-90's, Shaquille O'neal was dunking, rapping, appearing in commercials, and in lead movie roles. One movie that stands out the most is "
Kazaam
." In that film, Shaq starred as a genie who comes out of a boombox and grants a boy three wishes. A year later, Shaq played a superhero who wears an armored suit in the 1996 film "
Steel
." That movie was bad all around. Bad writing, bad acting, bad, bad, bad. Shaq hasn't had a lead movie role since then. We wonder why?
Vin Diesel
Vin Diesel became Hollywood's newest movie muscle guy in the 2000's with his roles in '
The Fast And The Furious
" and "xXx." He was viewed as a tough guy because of his roles as a muscular, bald headed badass in many of his action movies. Then he starred in "
The Pacifier
" and that perception of him was ruined. Even though "The Pacifier" was a box office success, it was one of the most ridiculous movie roles for Vin Diesel. Diesel played a U.S. Navy SEAL who is assigned to stay with and look after a dead scientist's family and his five out-of-control children. This film is like an updated version of Hulk Hogan's "Mr. Nanny" movie.
Story by
Maccorley Mathieu
Starpulse contributing writer