Holly Madison & Kendra Wilkinson Rush To Hugh Hefner's Side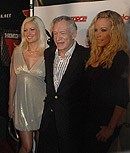 Hugh Hefner's ex-girlfriends Holly Madison and Kendra Wilkinson rallied to support the Playboy boss as he taped a TV special about his doomed wedding to Crystal Harris.

Hefner was dumped by his fiancee just days before their planned marriage over the weekend, while the pair was also scheduled to tape a show for Lifetime about their plans for married life.

TV executives had to change the concept to a "runaway bride" theme at the last minute and Hefner's former lovers at the Playboy mansion, Madison and Wilkinson, turned out to help the ageing media mogul through filming.

He writes on his Twitter.com page, "Holly & Kendra were here today lending their emotional support as we shot for the Lifetime TV special.

"The marriage special planned for Lifetime TV is now going to have a 'runaway bride' theme & will air in July."