Holly Madison Is Almost Naked Again And Renaming Las Vegas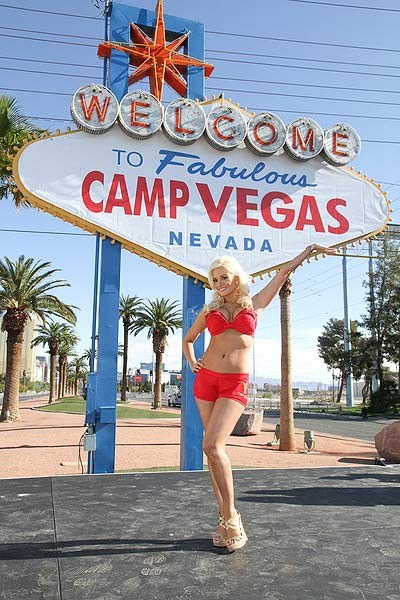 Holly Madison and Wayne Newton revealed changes to the Las Vegas welcome sign yesterday, and of course the former "Girls Next Door" babe had to wear a swimsuit to the event.

It's the first time the city has changed the sign in its 51 years on the Las Vegas strip. The sign was officially changed to "Welcome to Fabulous Camp Vegas" and marked the launch of a new marketing campaign positioning Las Vegas as a summer camp for adults. This one will probably backfire on the city though, because when we think of camping and Vegas the first thing that comes to mind is pitching a tent in the 115 degree heat of the desert. If Holly was there naked it probably still wouldn't get us to go.

We asked Wayne how he felt about being paired with Holly; to which he replied, "What the f***, they couldn't get Celine Dion? Or the guy whose tiger mauled him?" (No, he really didn't say that. But we bet that's what he's thinking.)

Wayne is known as "Mr. Las Vegas" after performing in the town for 132 years; and Holly is quickly transforming into "Miss Las Vegas." She's been taking the town over with all the events she promotes. In hardly any clothing. Also on hand at the event were showgirls from "Jubilee!" at Bally's and bikini-clad skydivers, which isn't as good as naked skydivers, but it works.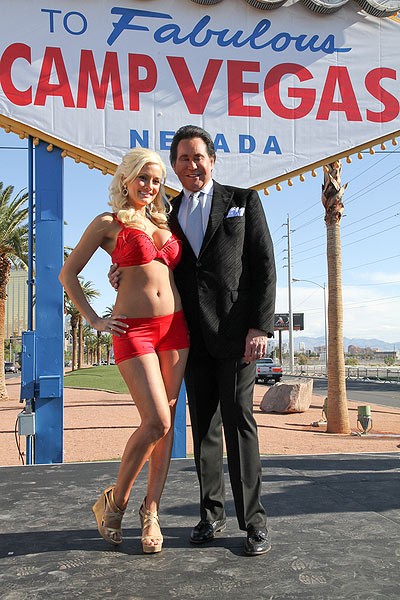 ^ click for next image ^
Click the pics for larger images:
- Click here for more Holly Madison pictures! -