Holly Madison: 'I'm not Perfect, but I Love my Curves'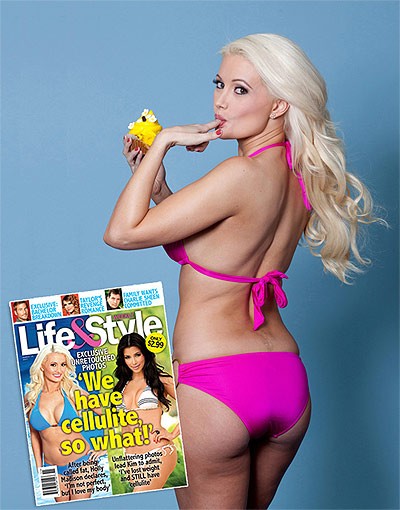 Holly Madison is firing back at recent comments made about her weight gain - the result of her move to Las Vegas in 2009 to star in "Peepshow," a burlesque cabaret show at the Planet Hollywood Resort & Casino.
"After moving to Vegas," she explains, "I lived in a suite in Planet Hollywood for a year and ordered room service all the time. I like food too much to go on some crazy diet. French fries are my favorite downfall."
But Holly's weight gain didn't go unnoticed. The director / choreographer  of "Peepshow" took some shots at the Holly's World star's weight recently, asking her to lose some of the whopping 15 lbs she gained (which is completely ridiculous).

Holly recently posed for an exclusive unretouched photoshoot with Life & Style magazine to show off all her "flaws" and show the world that there's nothing to be ashamed of and that she's got some - Gasp! - cellulite.

Holly, 32, tells Life & Style, "I have cellulite — and had it even when I was at my absolute thinnest. I'm never not going to have cellulite. People need to just accept that it's there and maybe dress accordingly or use body makeup to cope with it."
Even Jayde Nicole, a former Playboy model like Holly and Holly's co-star and rival on her hit show, Holly's World, has made comments about her weight gain.
"Holly needs to lose 10 pounds of fat," she said. "[She] would never get picked for Playboy now. If you're a model, you're expected to be in good shape."
Holly responded to Jayde's comments back in January, telling Radar Online, "I market myself as a sex symbol, I don't market myself as a fitness model or a professional dancer so I feel like the way I look is fine!"
In other words, everyone - including "Peepshow's" director and model Jayde Nicole - just needs to get over it.
But Holly's conscience seems to have gotten the best of her, and after realizing that she'd "packed on a few" going on stage became more difficult.
"I was embarrassed to go onstage," she says.

But despite her "weight issues" and the "visible flaws" in her Life & Style photos (the only really clear one being that scar from having her Playboy Bunny tattoo removed from her lower back - smart move, Holly), Holly has more or less given in to the requests, making changes to her diet and adding in more time for exercise.
We'd think dancing in "Peepshow" six nights a week would be plenty of exercise, but apparently not.
But despite hurtful and negative comments, Holly's happy the way she is.

"I've always had a butt, and I want to keep it — cellulite and all. I'm not perfect, but I love my curves."
Check out more exclusive unretouched photos and an interview with Holly Madison in the new issue of Life & Style, on newsstands now.
Click for more great Holly Madison pictures: