Holly Madison Got Lucky On St. Patrick's Day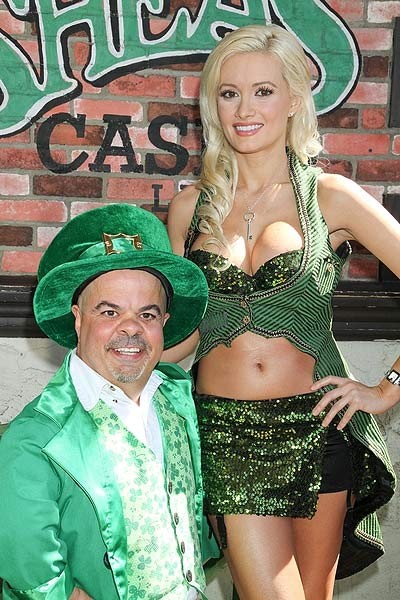 Holly Madison celebrated St. Patrick's Day by partying at O'Sheas Casino in Las Vegas yesterday with 'Larry the Leprechaun' by her side, a drink in her hand, and a game of that age-old Irish tradition: beer pong. Of course, Holly will make any excuse to don a costume - including this belly-baring sparkly green one. Hef's former girlfriend looks like a beer pong pro, but she's probably even better at the things that come after she gets good and liquored up. 

We're going to go out on a limb here, but, ironically, despite the luck that Leprechauns bring, we're thinking that Larry probably didn't get too lucky last night. And that whole 'three wishes' thing if you find a Leprechaun - well that can't be true either because Holly's hosting a party for the opening of a casino. That's almost as low and washed up as Pamela Anderson hanging out at a Pennsylvania Rite-Aid drug store.

So what's new in Hollyland? Benji Madden is taking his romance with the former Playboy Playmate to the next level - the couple is reportedly moving in together. Holly is looking to quit her adopted home in Las Vegas to move back to Los Angeles, where she once lived at the Playboy mansion with ex-boyfriend Hugh Hefner.

So while her former "Girls Next Door" pal Kendra Wilkinson is busy with a new family and season two of "Kendra" on E!, Holly is posing for photo ops.

Whatever happened to Bridget?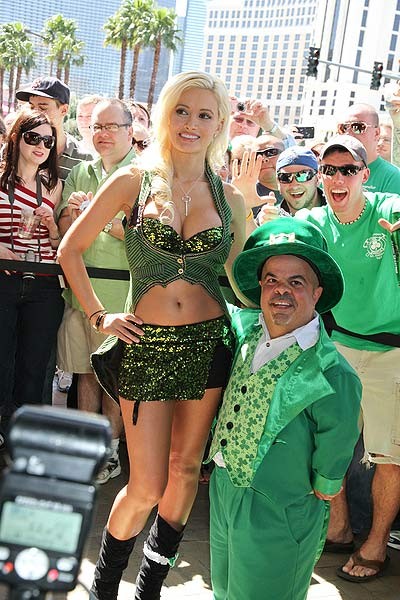 In this photo: Holly Madison & Larry the Leprechaun. And two douchebags.
^ click for next image ^
Click the pics for larger images: