Holly Brook Hits The Road With Teddy Geiger and Alexa Ray Joel

Holly Brook
-- whose track with
Fort Minor
, "Where'd You Go," won this year's MTV Video Music Award for Best Ring Tone -- will hit the road with singer-songwriter
Teddy Geiger
to perform material from her solo debut "
Like Blood, Like Honey
." Alexa Ray Joel will also join the tour, which kicks off in Portland, OR, at The Aladdin Theatre.
Fresh off a successful tour with
Daniel Powter
, Brook has been widely received as a talented performer. "With light, airy vocals reminiscent of
Dido
and a simple, sophisticated piano style in the
Sarah McLachlan
tradition, she displays a broad songwriting talent as lyrical as it was melodic," says The Seattle Post Intelligencer. Her album, which she co-produced with Grammy Award-winning producer Jon Ingoldby, has been highly regarded for its impressive depth and introspection. Performing Songwriter raves: "...debuts rarely get better than this!"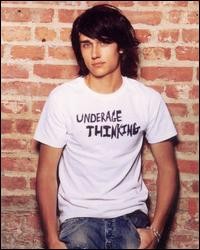 At the age of 17, Brook was the first artist signed by
Linkin Park
's label, Machine Shop Recordings. By 19, she had released "Like Blood, Like Honey." Now she's preparing for what is shaping up to be another equally successful tour. Holly Brook is definitely one to continue watching!
Holly Brook Fall Tour with Teddy Geiger and Alexa Ray Joel:
SUN 9/24 Portland, OR Aladdin Theatre
TUE 9/26 Spokane, WA Big Easy
WED 9/27 Boise, ID Big Easy
THU 9/28 Yakima, WA Central Washington Fair
MON 10/02 Anaheim, CA House of Blues
WED 10/04 San Francisco, CA Great American Music Hall
THU 10/05 Los Angeles, CA Troubadour
FRI 10/06 Reno, NV Grand Sierra Resort & Casino