Hoffman, Chan & Black To Star In 'Kung Fu Panda'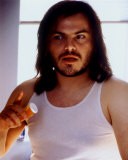 Although the movie isn't scheduled to be released until 2008, DreamWorks Animation announced today that two-time Academy Award winner
Dustin Hoffman
, international superstar
Jackie Chan
, and award-winning actor
Ian McShane
are joining
Jack Black
in the cast of the computer-animated comedy "Kung Fu Panda." In addition, award-winning actress
Lucy Liu
is currently in talks with the studio to voice another main role.
Jack Black
heads the voice cast as Po the Panda, the laziest of all the animals in the Valley of Peace. With powerful enemies at the gates, all hope has been pinned on an ancient prophesy that a hero will rise to save the day. But among all the martial arts masters who come forward, none has shown the mark of The Chosen One ... until now. When Po unwittingly shows up in the midst of the competition, the masters are shocked to see that this unmotivated panda bears the mark. Now it is up to them to turn this gentle giant into a kung fu fighter before it's too late.
Dustin Hoffman
will voice the role of Shifu, the by-the-book and tough-as-nails Kung Fu master, who has been given the unenviable task of turning the undisciplined Po into a kung fu fighter. One of the film industry's
most honored actors
, Hoffman won two Best Actor Oscars for his work in "
Kramer vs. Kramer
" and "
Rain Man
." He was also Oscar-nominated for his performances in "
Wag the Dog
," "
Tootsie
," "
Lenny
," "
Midnight Cowboy
" and "
The Graduate
." He more recently starred in the comedy hit "
Meet the Fockers
" and in the acclaimed drama "
Finding Neverland
." In all, Hoffman has
starred in more than 50 films
in a career spanning five decades.
Jackie Chan
will lend his voice to Master Monkey, a strong, agile and dedicated kung fu warrior, who serves as a daily reminder to Po of everything he is not ... yet. Chan was already Asia's biggest box office star when he conquered the worldwide box office with his trademark combination of death-defying stunts and crowd-pleasing comedy. He was introduced to American audiences with a starring role in the action hit "
Rumble in the Bronx
," followed by the blockbuster partnership of Chan with
Chris Tucker
in "
Rush Hour
." He then starred with
Owen Wilson
in the hit action comedy Western "
Shanghai Noon
," before re-teaming with Tucker in the smash hit sequel "
Rush Hour 2
." Chan's more recent film credits include "
Shanghai Knights
," "
The Tuxedo
" and "
Around the World in 80 Days
," and he continues to make films in his native Hong Kong.
Ian McShane
will be the voice of the villainous Tai Lung, a ferociously powerful snow leopard, who breaks out of prison, intent on using his kung fu skills to destroy the Valley of Peace. Currently starring on HBO's acclaimed Western series "
Deadwood
," McShane has won a Golden Globe Award and earned an Emmy nomination for his portrayal of Al Swearengen on the show. The veteran actor has also been seen in a wide range of film and television projects, both in the U.S. and in his native England. His most recent film credits include "
Nine Lives
," "
Agent Cody Banks
" and "
Sexy Beast
."
Lucy Liu
is in discussions to be the voice of Master Viper, another of Po's teachers, who can be coy and feminine when she needs to be, but can then uncoil the lethal kung fu warrior within. Liu recently shared in a Screen Actors Guild (SAG) Award as a member of the ensemble cast of the Oscar-winning musical "
Chicago
." She is also well known to film audiences as one of "
Charlie's Angels
" and for her villainous role in
Quentin Tarantino
's "
Kill Bill: Vol. 1
." She most recently starred in
Tony Scott
's actioner "
Domino
." Liu first gained fame with her starring role on the hit series "
Ally McBeal
," for which she won a SAG Award and earned an Emmy nomination.
Slated for release in May 2008, "Kung Fu Panda" is being directed by John Stevenson and Mark Osborne and produced by Melissa Cobb.