'Hitman' Takes Aim On Unrated Digital Copy Special Edition DVD And Blu-ray March 11

The fine line between sinner and saint is tested as
Hitman
shoots to DVD March 11th from Fox Home Entertainment. Based on the top-selling, award-winning videogame franchise,
Hitman
follows a genetically engineered, elite assassin known only as Agent 47 whose sole purpose is to rid the world of its most sinister and deadly criminals.
Hitman
stars
Timothy Olyphant
(
Live Free Or Die Hard
, "
Deadwood
") as the master agent,
Olga Kurylenko
(
Quantum Of Solace
, due in theaters Fall '08) as his love interest and
Dougray Scott
(
Mission Impossible: II
,
Dark Water
) as the Interpol investigator obsessed with capturing him. Living an existence of cold exactitude with lethal grace, unwavering precision and resolute pride in his work, Agent 47 is faced with the unexpected stirrings of his conscience and the unfamiliar emotions aroused by a mysterious Russian woman.
Loaded with action-packed bonus features, the
Hitman
Digital Copy Unrated Special Edition DVD is packed with exclusive content including never-before-seen footage, deleted scenes, multiple behind-the-scenes featurettes, alternate ending, gag reel and more. The
Hitman
Unrated Blu-ray disc also includes a standard edition Digital Copy of the film. In addition, Fox Home Entertainment will also release unrated and rated single-disc versions.
Digital Copy provides a consumer a friendly way to easily and quickly transfer a digital movie file directly from a DVD to one of the several hundred million compatible Macintosh and Windows-based personal computers or laptops. In addition to being able to view and store a Digital Copy of the film on compatible computers/laptops, the digital movie file can be loaded on to one of the Apple video capable iPods and the iPhone as well as numerous Microsoft Windows PLAYSFORSURE enabled portable video devices offered from such manufacturers as Creative Labs, Archos, iRiver, Dell, RCA, Samsung, Toshiba and others.
A top assassin known only as Agent 47 (Olyphant) is hired by a covert organization "The Agency" to kill targets for cash. He later becomes ensnared in a political conspiracy that finds him pursued by both Interpol and the Russian military as he treks across Eastern Europe
The
Hitman
single disc DVD includes the theatrical version of the film in both full screen and widescreen formats and the Hitman Unrated single disc is presented in English DTS 5.1 audio for widescreen only. Both of these releases are presented in English Dolby Surround 5.1 and Spanish Dolby Surround with French subtitles. The following bonus materials are featured on all formats:
- Deleted Scenes
- Ovie's Pool Scene
- Hospital Scene
- A Different Train Platform
- Udre's Death
- Alternate Ending
The
Hitman
Digital Copy Unrated Special Edition DVD includes the unrated film and all above single disc content presented in widescreen format with the following extra material featured on the disc one:
- Featurettes
- In The Crosshairs
- Digital Hits
- Instruments Of Destruction
- Para-Ordinance P18.9
- Blaser R93 LRS2
- MM16
- FN F2000
- Micro Uzi
- M240
- Settling The Score
- Gag Reel
Disc 2:
- Digital Copy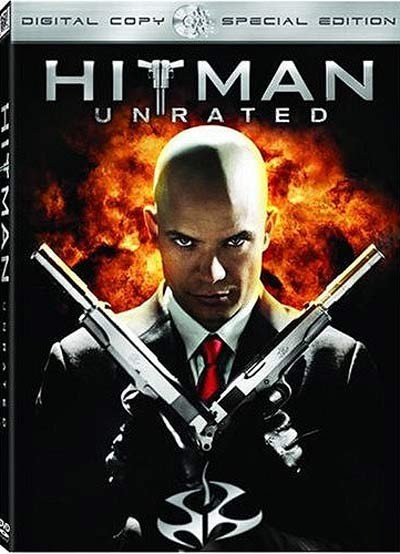 Hitman Unrated Special Edition Blu-Ray: The Hitman Unrated Special Edition Blu-ray two disc features the unrated version of the film, with all above single bonus content on disc one and Digital Copy of disc two. The film is presented in widescreen format with English 5.1 DTS HD Master Audio (Lossless), French 5.1 DTS Dolby Digital and Spanish 5.1 Dolby Digital.
About Fox Home Entertainment: A recognized global industry leader, Twentieth Century Fox Home Entertainment LLC (TCFHE) is the worldwide marketing, sales and distribution company for all Fox film and television programming on VHS, DVD and Blu-ray Disc (BD) as well as acquisitions and original productions. The company also releases all products around the globe for MGM Home Entertainment. Each year TCFHE introduces hundreds of new and newly enhanced products, which it services to retail outlets - from mass merchants and warehouse clubs to specialty stores and e-commerce - throughout the world. Twentieth Century Fox Home Entertainment LLC is a subsidiary of Twentieth Century Fox Film Corporation, a News Corporation company.