Hitchcock Star Farley Granger Dead At 85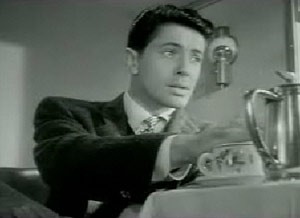 Actor Farley Granger, discovered by a talent scout in a local theater in the early 1940s and thrust into stardom thanks to directors such as Alfred Hitchcock, died at his Manhattan home Sunday at age 85, reportedly of natural causes.
Granger, who considered himself an inexperienced actor at the time, made his film debut in 'The North Star' in 1943.  After serving in the Army, he took on the role of an intellectual murderer opposite Jimmy Stewart in Hitchcock's 'Rope' in 1948.  The 80-minute movie was well-known because it took place in real time in what appeared to be one long take.
Hitchcock also used Granger to good effect in what's probably his best role, Guy in 'Strangers On A Train' opposite Robert Walker in 1951.  Playing a star tennis player, he admirably played sane opposite Walker's brilliant cuckoo performance.  Other films Granger made included 'They Live By Night,' 'Enchantment' and 'Our Very Own.' 
He left Hollywood in the 1950s to focus on his craft, and successfully starred in a number of Italian films, participated in numerous live TV dramas and dabbled in Broadway.  His last film appearance was in 2001 in 'The Next Big Thing.'
Granger's most high profile relationship was with Shelley Winters, and in his 2008 memoir, he detailed his relationships, revealing his bisexuality.  In his later years he also participated in many interviews about his films, most notably those of Hitchcock.