History Channel's 'The Bible' Producers Call Satan's Resemblance To Barack Obama 'Utter Nonsense'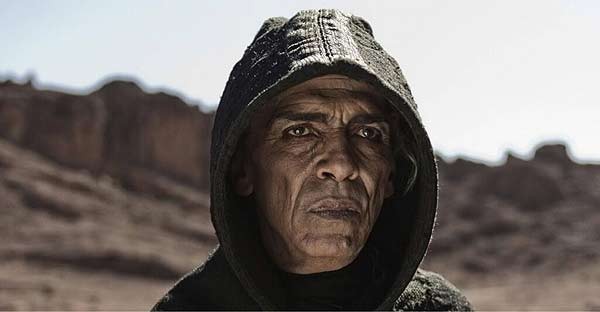 The History Channel's 10-hour miniseries The Bible came under fire Monday morning because Moroccan actor Mohamen Mehdi Ouazanni, who was introduced as Satan in the series' third episode Sunday night, happens to look a little bit like U.S. President Barack Obama.

The internet buzzed over the resemblance of the Devil and the President after conservative pundit Glenn Beck tweeted, "Anyone else think the Devil in #TheBible Sunday on HIstory Channel looks exactly like That Guy?" ("That Guy" being Obama -- Beck has vowed not to say his name in 2013.)

But now the History Channel and the hit series' creators, reality TV producer Mark Burnett and his wife, actress Roma Downey, have addressed the coincidence, calling it "utter nonsense."

"History channel has the highest respect for President Obama," a rep for the network said via statement. "The series was produced with an international and diverse cast of respected actors. It's unfortunate that anyone made this false connection.

"History's 'The Bible' is meant to enlighten people on its rich stories and deep history."

"This is utter nonsense," Burnett said. "The actor who played Satan, Mehdi Ouzaani, is a highly acclaimed Moroccan actor. He has previously played parts in several Biblical epics — including Satanic characters long before Barack Obama was elected as our President."

Some of those films include films and made-for-TV movies like "David," "Jeremiah," "In The Beginning" and "The Ten Commandments."

"Both Mark and I have nothing but respect and love our President, who is a fellow Christian," Downey added. "False statements such as these are just designed as a foolish distraction to try and discredit the beauty of the story of The Bible."

Since the controversy started Beck has taken to his twitter again to basically tell people to get over it.

"Media – relax. Actor has been in similar roles b4. Funny, nothing more. For different reasons, #TheBible is 1 of my fav shows. Keep watching," he wrote.

The hit series drew in 13.1 million viewers and set cable records when it premiered on March 3.