Hip-Hop/Gospel Film "Preaching To The Choir" On DVD June 6th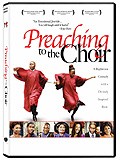 Estranged since the death of their parents years ago, twin brothers, Teshawn and Wesley Tucker, have taken radically different paths in life. Wes (Darien Sills-Evans) has become a minister in a Harlem gospel church while Te (Billoah Greene) perpetrates the gangster lifestyle as Hip Hop star Zulu. They are forced into reconciliation when Te flees from LA to his childhood home in Harlem to hide from his enraged record producer, Bull Sharky ("
Lost
" star
Adewale Akinnuoye-Agbaje
).
Te tries to disappear in his preacher brother's world of the gospel church but becomes entrenched in the community and finds himself reconnecting with his past by becoming involved in the failing church choir. There, he is comforted by Aunt June (Novella Nelson), his loving surrogate mother with a musical past, and is falling for Kia (Janine Green), a lovely church goer with her fingers on the pulse of the history, and magic, of Harlem . As Bull Sharky and his posse move east tracking Te down, Te and Wes must confront their own demons and attempt to work out their differences.
Through the intersection of gospel and hip hop, east coast and west coast, the sacred and the secular, Preaching to the choir weaves a story of unconditional love and redemption, a story of community.
Preaching to the Choir
is the winner of the prestigious 2005 American Black Film Festival's Best Actor and Audience awards. Preaching to the Choir is also the winner of the prestigious 2005 American Black Film Festival's Grand Jury Prize.
The film features original music composed by R&B Hall of Fame Inductee Nona Hendryx (original member of the female trio
LaBelle
); the father of contemporary gospel and Grammy award winner Edwin Hawkins (creator of the world renowned hit "Oh, Happy Day); and the gospel ensemble Broadway Inspirational Voices.
Preaching to the Choir also features the music of R&B diva
Patti LaBelle
; gospel legend
Mahalia Jackson
, and the Abyssinian Baptist Gospel Choir.
Preaching to the Choir does just that. A feel-good yarn about faith and family, the indie film is geared to church goers. But before you assume it's a squeaky-clean Bible-thumper, be advised that this dramedy is rated PG-13 for language, sex and drug references. Nor does it sermonize at the expense of entertaining. Instead, it melds gospel and hip-hop for a music-driven tale of twin brothers who reconnect...you can't fault a church-geared movie that tries so hard to entertain while preaching so softly. - BRUCE WESTBROOK / Houston Chronicle
OFFICIAL TRAILER