'HIMYM': The Autumn Of Break Ups Continues
November is tv sweeps month, and the networks usually put up their best stuff in order to win the ratings wars.  In the past November has been a great month for HIMYM, and last night the trend continued.
In previous weeks, Ted referred to the fall of 2012 as the "Autumn of Break-ups."  Barney was still reeling from his split with Quinn, and was looking for a new friend.  He found one… a lost dog.  Barney dubs the dog "Brover," and he quickly becomes Barney's new wingman.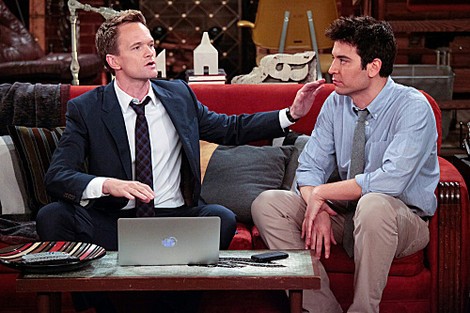 Meanwhile, Ted thinks things are going fine with Victoria, but things may not be as they seem. After a double-date with Lily and Marshall, they tell Ted that they think he is missing the messages from Victoria.  Lily and Marshall think Victoria wants a commitment from Ted.  The next time Ted is with Victoria, she confirms this by not so subtly asking whether she should hang on to her wedding dress.
Robin feels like the Brover thing is Barney crying out for help.  She invites him to come have dinner with her and Nick, her new boyfriend and host of his own cable cooking show.  The invitation doesn't work quite as planned though, as Barney shows up to Nick's apartment with Brover (all suited up of course).  Barney gets a call halfway through dinner from Brover's owner.  He doesn't want to, but he knows he has to give him back.  Robin agrees to help Barney take Brover back to his rightful owner. 
That night, when Victoria enters Ted's apartment, she is greeted by a grandiose display only Ted Mosby could arrange.  There are flowers and rose petals everywhere.  Ted drops to one knee, and asks, "Will you marry me?"  Victoria responds, "Of course… but there's just one thing.  You can't be friends with Robin."
Whoa!  Ted is clearly taken aback by the ultimatum.  How could he ever split ties with Robin?  He goes back to the apartment to relay the story to Marshall and Lily and chat it over.  Ted had finally come to terms with the fact he would never end up with Robin last spring, and Victoria could definitely be the one that he could grow old with, but would it be worth splitting up the gang?
Barney brings back Brover, whose name actually turns out to be Mr. Sprinkles.  When the owner mistakes Barney and Robin for a couple, Robin makes it clear that that isn't the case and wingmans for Barney, who looks like he is in better spirits.  Robin heads back to be with Nick, when she is again pulled away, this time by Ted.  Nick is clearly frustrated.
At first, it would appear that Ted has called Robin down to the bar to tell her that they can't be friends anymore.  That very well may have been his original intention, but in a classic HIMYM switcheroo, it cuts to Ted talking to Victoria.  "I'm not in love with Robin, but she's like family to me, and I can't end that.  Can you accept that?" Ted pleads.  Victoria's eyes begin to water, and she replies, "I really hope you get her some day."  Victoria walks out of the bar, and out of Ted's life.
Back at the apartment, Marshall and Lily are consoling Ted.  "She'll be really touched when she finds out what you did," Lily says.  "No," replies Ted, "She can never know.  Promise me."  Robin drops by, and Ted breaks the news that he and Victoria had split up.  "What happened?" she asked.  "We just wanted different things," says Ted.
The second casualty of the Autumn of Break-ups was a particularly harsh one.  The mood was once again set perfectly by the HIMYM production team with the song "Low Rising" by The Swell Season.  Of course we knew that Ted and Victoria couldn't end up together, but I did not see it ending like this.  Will we ever see Victoria again? Clearly Nick is already becoming annoyed with the dominant presence of the other two men in Robin's life, and I have no doubt that that will be the ultimate demise of their relationship. 
One side note:  the lesbian joke about Robin not realizing her aunt is a lesbian is a bit inconsistent, as she referred to the woman she lives with as "her lover Betty" back in season two.
New episodes all month for TV November sweeps!  The legend continues Monday 8/7c on CBS.