'HIMYM' Season Finale: Who Will It Be?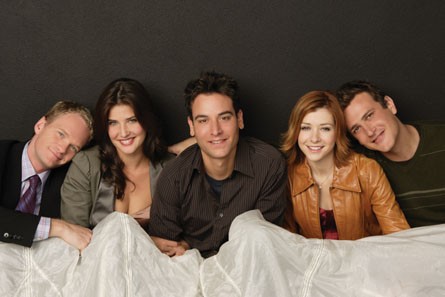 Monday night's sixth season finale of How I Met Your Mother may not have been the funniest of the season, but it certainly gave us some high drama and exciting reveals.
Earlier this year HIMYM got the rare double renewal, ensuring that the show will be returning this fall and the fall of 2012 as well.  Last night's episode was the second straight one written by show creators Carter Bays and Craig Thomas.  They have brought us some of the greatest episodes of the series.  They have always said that they know the beginning and the ending and have been bridging the gap in between.
Certainly, some big things happened Monday night.  Surprisingly, there wasn't very much development for Ted's story.  Ted (Josh Radnor) had finally broken up with Zoey (Jennifer Morrison), but was it for good?  For much of the episode Ted struggles over whether it was right to split with Zoey.  The gang knows that it was, and when Ted begins to have second thoughts they go after him.  Barney and Robin do some detective work to find him and stop him from making a big mistake.  For a moment, the old Ted says that was how he met his kids' mother, but quickly says that he is just kidding.
As for Lily (Alyson Hannigan) and Marshall (Jason Segel), this was a big episode.   Lily originally thinks that she got food poisoning from their favorite soup joint, but can't warn Marshall before he has already had two bowls.  Marshall had a big interview planned for that night, and could not reschedule.  He decides he must go, but is paranoid about the impeding sickness in his future.  Marshall never gets sick, and calls it a miracle.  Lily tells him it wasn't a miracle; she never had food poisoning in the first place.  She is pregnant!
Perhaps the biggest reveals of all happened with Barney (Neil Patrick Harris).  Robin and Barney in their weird way have always been kind of perfect for each other.  As the two of them tracked down Ted to prevent him from making the mistake of getting back together with Zoey, there was some pretty intense sexual tension.  After finally finding Ted and setting him straight, the two of them began walking off together.  As they are walking, they run into Nora, the girl that had stolen Barney's heart earlier this season.  Barney asks her if she wants to grab a cup of coffee sometime, and she says yes.  Robin looks on in a bit of bewilderment.  Is she happy for Barney, or did she have thoughts of wanting to get back together?
In the final scene they skipped ahead to the future for the biggest reveals of all.  From previous seasons, we know that Ted meets his wife at a wedding.  Robin calls out to Ted and says, "Hey, the groom says he needs to talk to the best man."  Ted walks into the church and says, "Is everything OK?"  Barney turns around and says, "Hey, what do you think of this tie?"
So who will it be?  Will Barney marry Nora?  Or will he get back together with Robin and live happily ever after?  Who is the mother of Ted's children?  Why is she at Barney's wedding?
As far as ranking this episode among all that have become before it, I can not say that I would put it very high.  However, I feel that wasn't really the purpose of the episode.  It was really about everything that has happened this season, how we got the point we are at now, and where it is headed in the future.  If there is one qualm I have, it is that Ted's relationship with Zoey does not really seem to have had much meaning in the end.  I was hoping that Zoey would have some big influence on how Ted eventually meets his future wife.  Maybe she does, and it just isn't clear right now.  In any case, I can't wait to see how it all unfolds.