'HIMYM' Review: 'The Broken Code' – Are Things Resolved?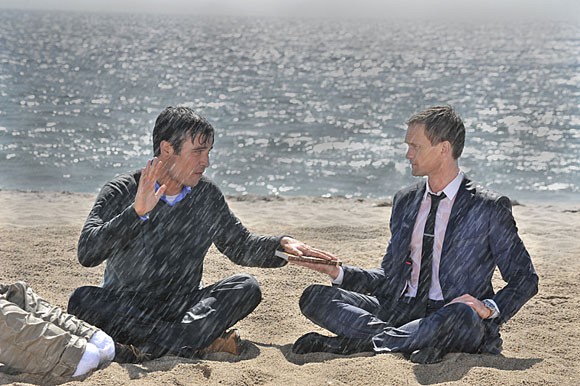 How I Met Your Mother returned last night with "The Broken Code."  Last week left off with Barney confronting Ted about holding hands with Robin when she was looking for her locket.  Ted shrugs it off as being no big deal, and Barney lets go of the subject.   Originally, Ted thinks he's off the hook, but then Barney begins making Ted do a bunch of laborious "best man tasks."  Eventually Ted sees through it and asks if it really is bothering Barney.
Meanwhile, Robin is confronting Lily about the bachelorette party she threw for her.  Apparently it ended up only being the two of them and Patrice at MacLaren's.  When Robin asks why Lily didn't invite all her girls, Lily responds with, "You have no girls."  The glass begins to shatter for Robin.  It is true that she doesn't get along well with other women.  She decides to try to make a new friend with someone at the resort, but it begins terribly.  Eventually Robin finds someone who is crying at the bar and asks what is the matter.  She says she's crying because the Rangers just lost to the Bruins.  They begin to hit it off, and then Lily gets crazy jealous. 
Barney accuses Ted of breaking the Bro Code.  They ask Marshall to make a ruling.  He is still driving across the country, and has been joining in on the conversations remotely the entire episode through an ipad.  Marshall rules that having a weird moment with your bro's fiancé is a violation, so the only thing to determine is whether holding hands by the carousel truly was a weird moment.  I think Ted knows in his heart that it was, but he tries to shrug it off as nothing.  Barney says it's fine as long he doesn't still have feelings for Robin.  Ted realizes know that he must confess that he still sometimes has feelings for her.  He knows that is not good, but he doesn't was to lose Barney as a friend.  He swears on the bro code that he will do his best to move on and deal with it.  They finally make up and go to the "best man poker game" that Ted had set up.  
This episode was written by Matt Kuhn.  He wrote Slapsgiving back in season 3, but has written mostly forgettable episodes since then, and this one will join that group.  I was really impressed with last week's episode, and I was hoping that it would start a run of great episodes this season.  I'm really surprised that Ted doesn't take this opportunity to tell Barney he plans on moving to Chicago.  It would seem the logical time to do it to me.  It was fun to see the return of "The Bro Code," which is an actual book you can buy by the way.  Tim Gunn and Billy Zabka made return appearances as themselves in the best man poker game.  The penultimate hand between a face-time Marshall and Ranjit was fun, although it would be nice if the action went in turn around the table. However, the confrontation seems to not really be resolved.  The truth is that Ted does still have feelings for Robin, and how can Barney feel ok about that?  Perhaps we will come back to this in a future episode.
The legend continues Mondays at 8/7c on CBS.