'HIMYM' Recap: John Lithgow Is Barney's 'Legenddaddy,' Or Is He?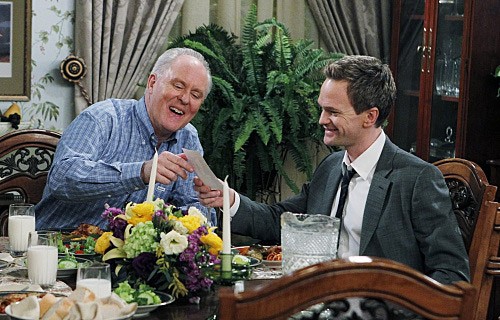 How I Met Your Mother returned with a new episode last night after a few weeks of reruns, and if that wasn't exciting enough, it was revealed that Barney (Neil Patrick Harris) would finally meet his estranged father.
Equally exciting was the news that Barney's father, Jerry, would be played by John Lithgow. The classically trained actor has proven his range with comedic roles like Dick on 3rd Rock From the Sun and serious ones like his award winning performance as the Trinity Killer on Showtime's Dexter, and seems like a perfect choice for HIMYM.
The episode started in typical HIMYM fashion by starting at the end of the story and then letting us know how it got to this point. Ted (Josh Radnor), Marshall (Jason Segel), Lily (Alyson Hannigan), and Robin (Cobie Smulders) confront Barney for an intervention, but for what?
Going back to the beginning of the story, we find out that Barney's father surprised him by showing up while the gang was watching March Madness (a typical tie-in since the games are on CBS). Barney leaves the gang to catch up with his dad at McLaren's and doesn't meet back up with them until the next day. When they ask him how it went with his dad, Barney tells the story of the "legenddaddy" he has always dreamed of that can pick up chicks without even trying and goes on tour with Bon Jovi. The gang warns Barney that his dad might just be telling him what he wants to hear, but the truth ends up being something else entirely.
Later when the gang is hanging out without Barney at McLaren's, Jerry tracks them down. Jerry tells them the real story of what happened hanging out with Barney. It turns out Jerry is a "lame suburban dad" with a family of his own that drinks skim milk and is only interested in one woman, his new wife. Jerry says that Barney isn't returning his calls and enlists the help of the gang to get him to talk to him again.
So that brings us back to the beginning of the story, when Marshall confronts Barney for an intervention, to tell him he should try to reconnect with his dad. Barney says that he will never talk to his dad again, but is quickly shut up by Marshall, who reminds Barney that it is Marshall that will never see his dad again. They offer to drive Barney over to his dad's house to have dinner, and he finally agrees.
When Barney meets Jerry's new family he tries to play nice at first, but in typical Barney fashion, he breaks down. After mentioning how Jerry and his son like to play basketball, Barney throws a tantrum and tries to rip down the hoop out on their garage. Jerry tries to apologize to Barney, but knows that there is little he can say to him to make up for a lifetime of neglect. In a powerful moment, Barney asks, "If you were going to be a lame suburban dad, then why couldn't you do that for me?" In an act of contrition, Jerry hands Barney a wrench and helps him take the basketball hoop down.
I thought this was a pretty good episode that really fell in with the themes and styles we're used to seeing on HIMYM. The story had twists and layers, wasn't exactly told in chronological order, and centered around one character. As per usual, there was a funny side-story involving the other characters in which they revealed eachother's "gaps in knowledge" such as Ted's mispronunciation of chameleon and Robin not knowing that reindeer were real. When Marshall realized that none of the group were picking on him for his gaps, he confronts them for treating him with kids gloves since his dad died earlier this season. The gang finally breaks and tells him his gaps, and he actually enjoys being included in the good-natured ribbing.
As expected, Lithgow was great as both the comedic dad of Barney's "Legenddaddy" fantasy and as the serious dad he is in real life. I hope that we get to see more of him in episodes to come.