'HIMYM' Recap: John Lithgow Is Back And Does Not Disappoint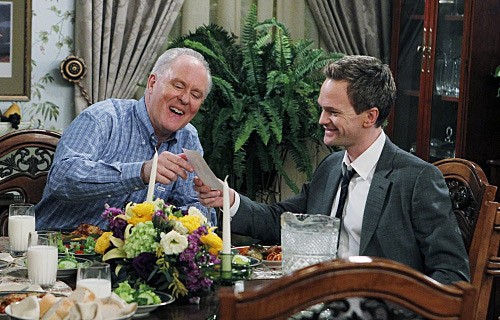 I enjoyed John Lithgow's performance as Barney's father, Jerry, and was excited to hear that he would be returning for this week's episode of HIMYM.  He did not disappoint. 
Last night's episode, "Hopeless," was the second of five straight weeks of new episodes to close out the season.  It started off with a flashback to Jerry visiting Barney (Neil Patrick Harris) for the last time before disappearing for the rest of his childhood.  Giving some perspective into why Barney is the way he is, Jerry says remember to always to stay awesome and then did a magic trick before leaving.
Jerry tried to reconnect with Barney in the recent episode "Legendaddy," but it did not go real well.  In a second effort, Jerry calls Barney, and he agrees to meet him at McLaren's. 
Barney prepares to meet his dad and encourages the gang to come along, but not before creating alternate personas for them to make them sound more exciting.  He tells his dad that Marshall (Jason Segel) is a playwright and Lily (Alyson Hannigan) is a fashion designer, and that they have an "open marriage."  Barney says that Ted (Josh Radnor) is going out with Robin (Cobie Smulders), and that they are guitar players in their band.  In one of my favorite moments of the season, it cuts straight from that lie into the five of them playing the theme song as a band.  This is the first time they have ever done this, and the whole thing about them being in a band may be a joke in itself.  The opening theme is about ten seconds of the song "Hey Beautiful" by the co-creators (Carter Bays and Craig Thomas) of HIMYM and their band, The Solids. 
Barney convinces the gang and Jerry "be awesome" and go to a club called Hopeless.  When they get there, Barney tries to get Jerry to do shots with him, but he keeps reminding him that he's just a suburban dad now and he was planning on going fishing in the morning. 
Finally, he says, "Fine, you want Crazy Jerry, well you've got him."  He proceeds to down several shots, and Crazy Jerry is unleashed.  Jerry and Barney take to streets where they fight a biker, break a parking meter, and puke on a cop car, resulting in getting arrested.  However, in another good HIMYM twist, everything is not as it seems.
Jerry reveals that he is not drunk, and that he had used slight of hand magic tricks to only make it look like he had taken the shots.  He says to Barney, "What did I tell you is a magician's most important instrument?"  And Barney replies, "A drunk audience?"  It was Barney that was the intoxicated one, and had gotten them arrested.  Barney says that since they are both skilled magicians that they should be able to free themselves from their handcuffs and get away, and they do just that.
On the drive back out to the burbs, Jerry has a heart to heart with Barney.  He says that eventually, you have the make the transition and settle down.  Barney asks, "But how?"  Jerry responds, "You have to find the right girl, maybe you'll meet her today, or tomorrow."  Barney comes back and says, "Maybe I've met her already," no doubt referring to his tucked away feelings for Robin.  Barney decides to stay and go on the fishing trip with Jerry. 
I liked this episode.  Lithgow was once again masterful as both Crazy Jerry and suburban dad Jerry.  Perhaps the reason I enjoyed this episode so much is that there wasn't even a mention of Zoey (Jennifer Morrison).  Her and Ted's relationship has been a bit of an annoyance for me lately, and I liked getting a breather from that.  She will however return next week for the episode, "The Perfect Cocktail," where Ted and Zoey are supposed to go away on a romantic weekend trip.