'HIMYM' Makes A Legendary Return With 'The Best Man'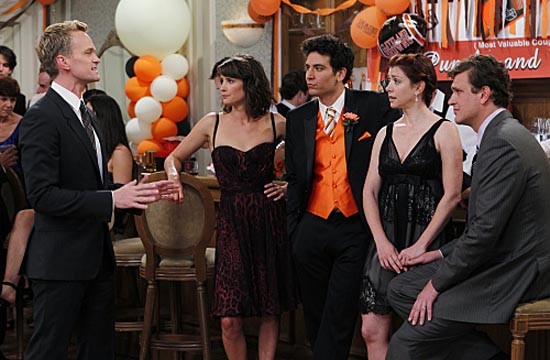 How I Met Your Mother returned last night with a pair of brand new episodes.  This marks the seventh season of the CBS sitcom, and with the end of Entourage, the Charlie Sheen meltdown, and Steve Carell saying goodbye, HIMYM is now the longest running sitcom with its original cast currently on television.  I actually liked the second episode better, but lets start from the beginning.
"The Best Man" was written by HIMYM's co-creators Carter Bays and Craig Thomas, and showed a lot of the style we've grown to love.  It started out with a flash forward to Barney's wedding.  He was showing signs of cold feet and asks Ted, "Did I choose the right tie?" obviously referring to whether or not he had chosen the right woman.  He goes on to express concern that it could be the worst wedding ever (why wasn't that the title of the episode?). Ted, to calm him down, says that nothing could be worse than when Marshall ruined Punchy's wedding.
It turns out that Ted (Josh Radnor) was the best man at Punchy's wedding and the whole gang went out to Cleveland for the ceremony.  However, everyone had something else on their minds.  Marshall (Jason Segel) and Lily (Alyson Hannigan) still hadn't told anyone about Lily's pregnancy, and Ted was worrying that he may never find the one.  Marshall was trying to cheer Ted up, while also running interference on anyone finding out Lily was pregnant.  When the whole gang is doing shots, Marshall sneaks Lily's shot into his mouth and drinks for the both of them.  Robin (Cobie Smulders) was dealing with lingering feelings for Barney; meanwhile Barney (Neil Patrick Harris) couldn't get Nora (Nozanin Boniadi) out of his mind.  At one point during the reception Barney and Robin engage in some dirty dancing, and she begins to say that she's having feelings for him, but right at that moment Barney receives a call from Nora, and decides to pick it up. 
It turns out that Ted has a reputation for being a pretty bad toast giver, and everyone was waiting to see what he would do this time.  To compound things, right before it's his time to speak Lily tells the gang that she is pregnant.  An emotional Ted looks sure to ruin things again, but instead a surly Marshall that had been drinking for two all night grabs the mic.  He says the reason that Ted is emotional is because this woman is pregnant pointing in the direction of both Lily and the wedding party.  Punchy's new bride gets up and responds, "How did you know that?"  Oops!
The second episode, "The Naked Truth," started right where the last one left off with Marshall experiencing a big hangover from the wedding.  He says, "I am never getting drunk again," and manages to break that promise twice before the end of the episode.  Ted has been invited to a ball, and is deciding between two new girls he met to bring with him, but the Marshall and Barney storylines of this episode were much more intriguing.
Marshall is vying for a position working for a man named Garrison Cootes, played by the incomparable Martin Short.  Cootes says that as long as a background check comes back clean, Marshall should get the job.  He begins to scour the internet for anything potentially damaging, and comes across a YouTube video of him streaking titled Beercules (another missed chance for a great title of an episode). 
Meanwhile, Barney is going to a diner after he convinced Nora to meet up with him during their chat on the phone.  Barney almost ruins everything right off the bat by lying, but then persuades her to stay by saying he'll answer any question she has truthfully for the rest of the night.  Over the next few hours Barney admits to some legendary pranks and plays made on women.  Finally, when the date is over, Nora gets up and says, "What makes you think that after hearing all of that I would still want to out with you."  Barney stops her in her tracks by responding, "Because you sat here the whole night.  You could've gotten up at any time, but you didn't."  Nora realizes Barney brings up a good point, but still refuses to budge, to which Barney replies that he will sit in this 24 hour diner until she agrees to go on a second date with him.
Somewhere across town, Marshall is dealing with problems of his own.  He finally tracks down the guy who he knew in college that posted the video online and asks him to take it down.  The guy says that he will only do it if Marshall beats him in a game of Edward Forty-hands, a game where you duct tape 40 oz bottles of malt liquor to your hands and see who can drink the fastest.  This of course backfires and results in not only Marshall going back on his promise to not drink, but getting a brand new "Beercules" video created and posted online.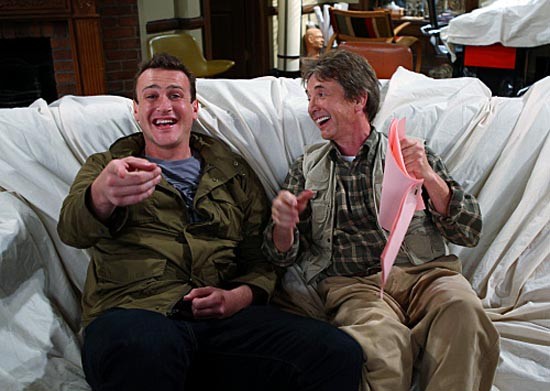 The gang goes to the diner to find out that Barney still hasn't left.  Ted sees the passion that Barney has for Nora, and decides he's not going to bring some girl he just met to the ball.  Marshall gets a call from Cootes, fearing the worst, but instead Cootes says, "Can you start next week?"  "Of course," Marshall replies.  Cootes responds, "Great... oh and one more thing, do try to wear some pants to work, Beercules."
Just when you think that that was the surprise of the night, HIMYM pulls a left hook that I don't think anybody saw coming.  Ted is at the ball, once again humming and hawing about how he may never find the one, when he looks over at the desert table.  Who looks back?  Victoria!
What a legendary return for HIMYM.  For a while I always had the feeling that the way that Ted and Victoria split just couldn't be the end of their story.  That was over 100 episodes ago, and I had kind of dropped any hope of her entering Ted's life again.  Could she be the mother?  Logic says no, but I have to believe there is a big reason why she is back in this story.  As for Barney, will he still be in the diner next week?  Can he win her back? Which tie will he choose in the end: Nora or Robin?  My bet's on Nora, but he is clearly conflicted to the very end.  Finally, I'd like to send kudos to writer Stephen Lloyd for actually out-doing show creators Carter Bays and Chris Thomas this week.  The legend continues Mondays at 8/7c on CBS.