HIMYM creators bring us The Goodwin Games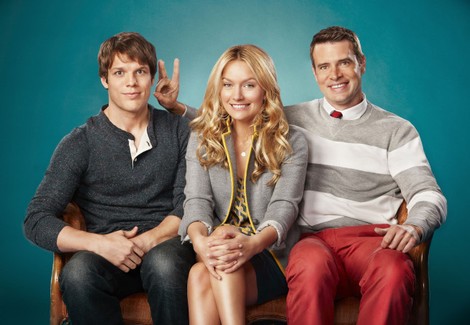 The Goodwin Games premiered Monday night on FOX.  It is the brain child of How I Met Your Mother co-creators Carter Bays and Craig Thomas and long time HIMYM staff writer Chris Harris.  Harris is credited as lead writer on classic HIMYM episodes such as "Okay Awesome," "Game Night," and "Mary the Paralegal," as well as more recently "The Bro-Mitzvah," the tale of Barney's bachelor party. 
The show is the story of the three Goodwin siblings, who are suddenly pit against each other in a battle for their eccentric father's inheritance.  HIMYM fans will immediately recognize Becki Newton as Chloe Goodwin from her role as Quinn, the stripper Barney almost married.  Chloe is an aspiring actress that fears she never lived up to her father's expectations.  
 Henry Goodwin, a pretentious doctor, is played Scott Foley.  People will recognize him from his roles in The Unit, Scandal, Grey's Anatomy, and Scrubs among other shows.  Funnyman T.J. Miller plays Jimmy Goodwin, the youngest sibling who was recently released from prison.  It would appear that he is a late replacement for Jake Lacy from The Office, who is actually pictured in my stock photo.
When the three of them are called to the will reading following their father's death, they weren't expecting much.  To their surprise, their father was hiding a fortune of over $20 million, which would be awarded to the winner of "The Goodwin Games."  The rules to the games were recorded on an extensive video will, which he left very specific instructions to his lawyer to execute. 
The first part of the games was a game of Trivial Pursuit, which was custom tailored to have questions about their past.  Chloe ends up winning after they have a big fight and everyone else forfeits.  However, when the next video of the will is read, their father says that an actual completion of the game was necessary for a winner.  The three of them finally make up and head to a local watering hole to finish the game.  When finished, they are directed to a photo booth, were another message from their father awaited them, and the games continue.
I can definitely feel the HIMYM style in the background of this pilot.  The story was weaved together with flashbacks to the character's past, and we have a character, the father, who sort of exists outside of the actual framework of the show. 
If I was to grade it I would say it was good but not great.  I'm a big fan of T.J. Miller, who I have had the pleasure of meeting and can say is as funny in person as he comes across on the screen.  However, he is being asked to take on a pretty big part of the comic relief of this show without a lot of help. 
I'm afraid the odds are stacked against this show from the get go.  FOX has never promoted their sitcoms very well, let alone a summer plug-in.  There are a few summer success stories.  Most notably of course is Seinfeld, which started when NBC offered the up-and-coming comic a slate of five episodes during the summer of 1990.  But for the most part, summer shows end up being canceled before anyone has ever even heard of them. 
I have a lot of faith in the creative talent both behind this show and on the screen, so I'm going to stick it out for a few more episodes (assuming they air).  The Goodwin Games second episode airs Monday May 27th at 8:30/7:30c on FOX.