Hilary Duff Shows Off Her Growing Baby Bump; Says She Prefers Tight Clothes During Pregnancy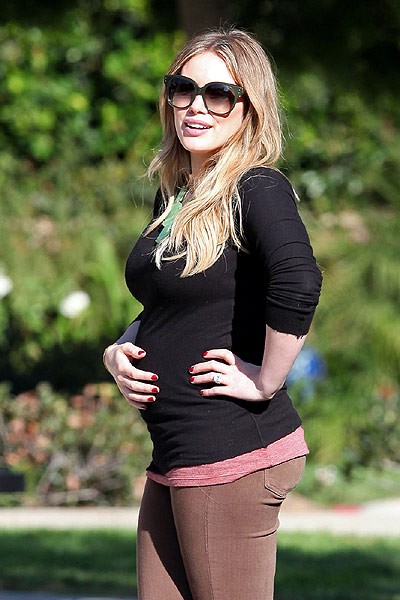 A very pregnant looking Hilary Duff was spotted on Friday afternoon at Los Angeles' Coldwater Park. The former Lizzie McGuire star showed off her ever-growing baby-bump in a tight, long-sleeved black top, brown leggings and leather boots.

Hilary recently told Us Weekly that she prefers to wear tight clothing during her pregnancy.

"In the beginning I was thinking, I'm going to wear really loose things, because you don't really look pregnant at first -- you just feel a little bigger than your normal self," she explains. "And now that you start to show I think it's better to wear tighter things, but it's kind of a challenge to find things!"

Hilary spent the day Friday with her husband, pro hockey player Mike Comrie, some family friends and her dog.

As far as Hilary's career goes, last month she revealed that she can't wait to get back to recording music after the baby comes.

She tells Eonline.com, "I want to get into the studio. I want to start recording. Even if I just mess around and kind of get myself in the swing of it. Before I got pregnant I was thinking about making a record, so I still want to do that.

"I think that after I have the baby I'll want to sit still for a few months and learn how to be a really good mom and then there's no reason why I can't put a record out and tour... It might take a little while but I'm really excited about it."