Hilary Duff Is Having Unwanted Hair Issues Due To Pregnancy (Video)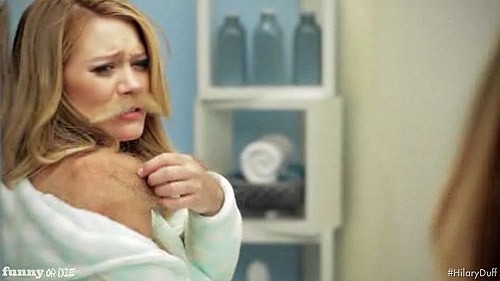 Mother-to-be Hilary Duff has filmed a spoof commercial for a hair removal product in a comedy sketch about the hormonal effects of pregnancy.

The singer/actress, who is expecting her first child with husband Mike Comrie, has shot a new FunnyOrDie.com video in which she reveals all about an unsightly fuzz she has developed all over her body

In the short clip, Duff shows off photos of the "unwanted back hair" and "unattractive lady moustaches" she had to contend with, before finding a solution for her hairy problem in NoGrowActiv.

She quips, "As everyone knows, pregnancy causes morning sickness, weight gain, and of course, rampant, excessive hair growth, all over your body.

"After I got pregnant, my hormones caused so much hair growth that I felt like a yeti. Or Robin Williams."

Duff had a ball filming the hilarious skit and she's thanked website founder Will Ferrell and his FunnyOrDie.com team for keeping her entertained.

In a Twitter.com post on Wednesday, she writes, "Thanks to everyone @funnyordie for a great day! If you haven't seen the vid, check it out!"
Hilary Duff's Pregnancy Secrets from Hilary Duff