Hilarious Looking 'Movie 43' Trailer Features Tons Of Stars, Gerard Butler As A Leprechaun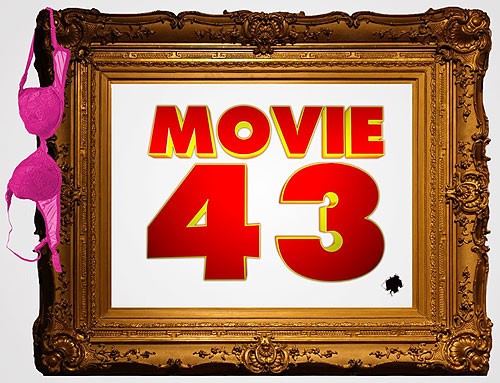 If you ask us, if Movie 43 is just half as funny as the trailer, it's destined to be a classic. We have no idea what it's about, other than it's actually 25 short films helmed by several different directors including Peter Farrelly, Elizabeth Banks, Bob Odenkirk, Brett Ratner and Griffin Dunne, and it features a huge, HUGE cast of A-list stars.

The film's greenband trailer (e.g.: approved-for-all-audiences) premiered during Tuesday night's episode of Tosh.0 on Comedy Central; and on Wednesday the very not-safe-for-work (NSFW) red-band trailer debuted on the network's website (according to the film's page on Wikipedia.com, the working title of the film was Red Band).
The film opens on January 25, 2013 and stars (in alphabetical order) Elizabeth Banks, Kristen Bell, Halle Berry, Leslie Bibb, Kate Bosworth, Gerard Butler, Bobby Cannavale, Kieran Culkin, Josh Duhamel, Anna Faris, Richard Gere, John Hodgman, Terrence Howard, Hugh Jackman, Johnny Knoxville, Justin Long, Stephen Merchant, Christopher Mintz-Plasse, Chloe Moretz, Chris Pratt, Liev Schreiber, Seann William Scott, Emma Stone, Jason Sudeikis, Uma Thurman, Naomi Watts and Kate Winslet.
Some of the hilarity inculdes Gerard Butler as a leprechaun with a penchant for a certain part of the male anatomy that Johnny Knoxville catches and shows off to pal Seann William Scott. Real-life couple Liev Schreiber and Naomi Watts play the parents of a home-schooled teen who they constantly bully and haze in order to give him a "real" high school-like experience; and Halle Berry and Stephen Merchant play a game of truth-or-dare during a blind date.
Check out the hilarious, jaw-dropping, outrageous trailer below (WARNING: Not safe for work, kids or prudes. Contains lots of harsh language and some brief nudity)...