Highlights & Embarrassing Bits Of 'American Idol's' Season 9 Boston Auditions

For "
American Idol
" fans, last night's premiere was nothing if not bittersweet. Sweet because after the long hiatus, "Idol" is finally back, bitter because last night was the last first time we'll ever see
Simon Cowell
again.
Luckily, we will be able to watch Simon, one last time, make the rounds through various cities and spitting snarky venom at various poor singers. It's a bit of car crash delight that comes but once a year and signals we are again at the beginning of a brand new "Idol" season.
But before we get to the embarrassing bits of attempted music, let's review the actual highlights of last night's episode:
The Three Best Audtions:
3. Tyler
This was the guy who fell out of a tree and shattered both wrists and looked like a fraggle crossed with a hipster. He delivered a melted white chocolate version of "Let's Get It On". Delicious and soulful. The judges universally agreed and Posh even looked like the rendition had her contemplating taking a sojourn away from Becks.
2. Katie
This was the girl whose grandmother only speaks Portugese and is suffering from Alzheimer's disease. Katie delivered an extremely smoky and rich version of "At Last" that outdid Kelly Clarkson's initial audition (that "Idol" winner sang the same song her first time out). I would say that the version was sexy, except that Katie is only sixteen years old. Sixteen! She could give Allison Iraheta and David Archuleta a run for their "Best High Schooler Ever" money.
1. Benjamin
We didn't get to see a whole lot of his audition, and got no backstory except for seeing his singing in the waiting area. He did a version of "All My Lovin'" by the Beatles, and put a honey-butter Motown spin on it that was both smooth and pleasant. He was the only auditioner to actually cover a song, giving him tremendous potential as the competition goes deeper.
The Three Worst Auditions:
3. Mary
This is the girl who introduced, I'm sure, most of America to the term Otaku, which means a huge anime fan (or, I'm assuming, roughly translates to basement-dwelling dork). She came in, resplendent in some sort of cape-like contraption and proceeding to absolutely shriek her way through Big Brother and the Holding Company's "Take Another Little Piece of My Heart". She followed this shrill performance by insisting that she's great and crediting her vocal coach with turning her into a surefire superstar. Making everybody wonder if her singing teacher is the Bernie Madoff of the profession.
2. Derek
This is the flowery new age guy who kind of resembled Fabio, if he were an awkward acne-strewn teenager that resided in a man's body. Derek described his voice as being a cross between
Chris Brown
and
The Eagles
. And it actually was. Too bad that cocktail combined to create an aural toxin that had the judges reaching for some sort of gong. And that wasn't the worst part - his segment ended with Derek creepily lamenting the fact that he didn't get to touch America. Where's Chris Hanson when you need him?
1. Andrew
In a low point for Andrews all over the world (a tear) this arrogant man with the large glasses came in like "The Situation" without a jockstrap as he rudely told Simon that it should be obvious that he was auditioning for 'American Idol' and that he didn't find Simon's question about why he thought he should make it to be "that interesting of a question."
Then he started singing.
He burnt down "The House of the Rising Sun" with flames that rivaled Shoshannah's moviehouse blaze in "
Inglourious Basterds
." Raging, wild, violent, and in about 220 different pitches. And, of course, he didn't get out of the room before offending every judge and getting into a creepy shouting match with Kara. As Simon would say, "Absolutely dreadful."
Best Simon Quotes
Back to Derek - Simon described his schizophrenic voice as sounding like "There's 20 of you in there and they're all horrible."
After Mary sang the line, "If it makes you feel good," Simon responded by saying, "Well that didn't."
When Lisa was through desecrating
Mariah Carey
's "Vision of Love, Simon informed her, "When you walked in, I thought we may have a great singer. Then you started singing." Lisa had the last laugh; however, as both Simon and Randy (and, strangely, Posh) ogled her rear end as she walked out of the room.
But the best of the night was given to Norberto, the 19-year-old who looked like a cross between Jim Steinman and
Ron Perlman
in '
Sons of Anarchy
'. When he finished desecrating "Every Time We Touch", Simon weighed in:
"The fact that you were singing like that with a beard made it even more strange - you sing like a three-year-old girl, you dress like
Latoya Jackson
, and you have a beard." Posh sweetened the diatribe by adding, "Looks more like Janet," on Norberto's way out.
Other Highlights
Posh (a.k.a.
Victoria Beckham
) was an excellent guest judge. Classy, funny, insightful, and had good chemistry with the other three. Too bad they didn't let her talk more.
The filmed packages were an annoyance as always, especially the history lesson which (comically?) featured Simon as an evil tyrant from England. Very clever. The best of the bunch was Simon's inability to understand what many of the contestants were saying. Simon's at his best when he's exasperated.
The best post-Golden Ticket celebration belonged Amadeo, the large Italian man who ended up playing bull in the ring with his entire family as a means of celebration, with Ryan in the middle like an NFL referee caught in a pileup.
The contestant the judges loved that I didn't really care for was Justin who sang "Feelin' Good" by Michael Buble. Justin struggled to get out the smaller notes and then overextended his voice on the bigger notes, never really finding a good level at which to rest.
The contestant I really liked that the judges weren't so hot on was Joshua, who delivered an effortlessly melodic version of "God Bless the Broken Road". This guy could do well with the country contingent even though Simon called him boring and forgettable.
And finally, the best note I made to myself while watching the show was regarding Bill, about whom I wrote, "He sounds like a man dying of having his testicles crushed," as he murdered 'Kiss From a Rose'.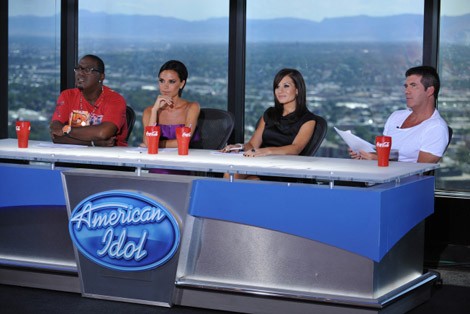 Image © Fox Broadcasting
Story by
Andrew Payne
Starpulse contributing writer