Hey! Not My Shorts! (Links & Stuff)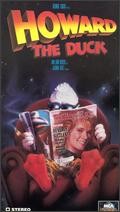 Check out some of the best links and viral videos found around the web today. And be sure to visit our
On the Web
section where we're constantly adding interesting links all the time.
YOU can even add links to stuff you find out there now, like interesting articles, cool YouTube videos, strange news, interesting photo galleries, and, well, just about anything!
After years of waiting it has finally happened... "Howard the Duck" is now on DVD.
- Spout.com
Rihanna parties at nightclub with her new Morris Day hairdo. Oh wee oh wee oh.
- Bitten & Bound
Seven badass cartoon villains who lost to lame-ass heroes
- Cracked
Celebrity chef
Gordon Ramsay
has sold his Los Angeles restaurant, Gordon Ramsay at The London West Hollywood. The foul-mouthed reality TV star opened the venue in June 2008.
Make your own laser death ray!

The douchiest phone message in history.
- Holy Taco
Top Chef: Where Are They Now?
- Television Without Pity
Guy jumps out of helicopter onto huge marlin
- MSNBC
American Idol
judge
Kara Dioguardi
will make her debut as an actress in the new
Theory of a Deadman
video "Not Meant To Be". The talented songwriter also penned the tune with band frontman Ty Connolly.
Dancing with the Star Wars:

Fashion critic and power bottom Tim Gunn wants Anderson Cooper to be his top
- Pop on the Pop
Remember Guy Smiley from "Sesame Street"?
- Hollywood Tuna
That white stuff the Jonas Brothers sprayed on the crowd in last night's "South Park"? Yeah, it's in their movie for real
- Idolator
Madonna
celebrated the Jewish holiday of Purim on Monday in costume. The 50-year-old singer punked it up in a brown-fringed wig, fishnet stockings, a mini skirt and framed glasses as she left the Kabbalah center in New York, joined by 22-year-old model and reported boy-toy Jesus Luz, who dressed as
Batman
villain The Joker.
Megan Fox FHM shoot:

Today's Megan Fox Link: Megan Fox wearing the greatest t-shirt ever.
- HOT POA
Wow, Fox Hates Their Paying Customers Almost As Much As The Music Industry Does!
- Television Without Pity
"I'm very romantic. It's a shame that people stop being romantic out of laziness."
Jennifer Aniston
airs her views on relationships...
...Apparently John Mayer got lazy.
- Starpulse

Like what you see? There's lots more of this stuff in Starpulse's
On the Web page!
And don't forget to bookmark the
On the Web
page and check back often for some of the hottest, funniest, interestingest and craziest stuff on the web!
What do you think of these links? Interesting? Funny? Sexy? Stupid? Post your comments below or head over to our On the Web section to submit stuff that you've found and want to share!
Click the pics for gallery & larger images