Herve Villechaize Story To Hit The Big Screen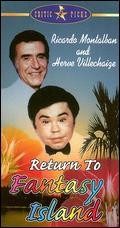 Fantasy Island
actor
Herve Villechaize
's life story is to feature in a new biopic. The pint-sized star, who played Tatoo in the beloved TV series, lived a tragic, often violent life and committed suicide in 1993.
The screenplay for the new film,
My Dinner With Herve
, has been written by journalist Sacha Gervasi, who conducted the last interview with Villechaize days before his death.
Gervasi also plans to direct the movie.
He tells
Variety
, "Herve wasn't just a pop culture icon; he was one of the most charming, cultured and dangerous people I've ever met. His is the story of a unique misfit trying to find his place in the world."