'Heroes' Greg Grunberg Saves Customers From High Prices

On
Heroes
, Greg Grunberg tries to save the world with his character's telepathic powers. In real life, he's invented something that can benefit everyone. The iPhone application Yowza is Grunberg's own brainchild.
"It's a free iPhone application," Grunberg said. "You press on Yowza and it knows your location and it brings up all the stores within proximity to you and all their deals. So let's say you're going to Guitar Center, it gives you a list of all the Guitar Centers in the area and the offers, the coupons. So you go into Guitar Center, you spend $200, you save $25 and the bar code comes up. They scan it right off your phone. It's really, really cool. Every day I'm talking to new retailers. We have a lot of people in the company but it's an idea that I came up with."
Another internet sensation hooked Grunberg up with the partners to develop his project. "I partnered with two guys I met on Twitter and we created this iPhone application. It's kind of exploding. It's been great."
The name itself came from Grunberg's show business friend. "
J.J. Abrams
actually gave us the name but he's my best friend. I came up with the idea."
Inspiration struck Grunberg when he found himself paying full retail because of his own forgetfulness. "I was going into Bed, Bath and Beyond and I forgot my coupon for the 100th time and I was like argh. Then it hit me and I told these guys about it and we made it."
This writer can attest to belonging to frequent buyer programs for stores like Office Depot and Barnes and Noble, but forgetting the coupons they send you in the mail. "Exactly, this way you always have them with you."
Grunberg has always been technically inclined, he says. "I am very much a techie. I'm a huge iPhone guy, huge Apple/Mac everything. Look, my character on
Felicity
was sort of based on me. I'm always coming up with entrepreneurial ideas and crazy, at first you're like that's never going to work. Then I just persist and I fine tune it. This was an idea that I knew right away I had to do because someone else was going to do it. It's turned into something pretty great."
Find Yowza at
www.getyowza.com
.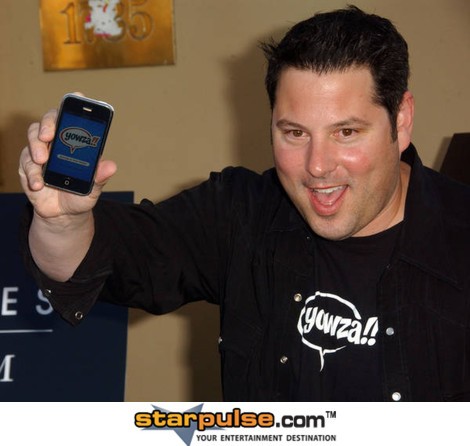 Image © Albert L. Ortega / PR Photos
Story/Interview by
Fred Topel
Starpulse contributing writer
(Starpulse in Hollywood)
: Every week, Hollywood's biggest stars are meeting in the hot spots and Starpulse is there.