Here's Looking At You, Kid: 'Casablanca' Named Greatest Screenplay of All Time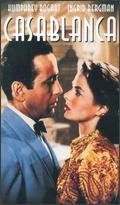 For the first time ever, the Writers Guild of America, East and the Writers Guild of America, West are celebrating the best screenwriters and their timeless works with the release of the
101 Greatest Screenplays
list. The finest achievement in film writing? The classic 1942 love story
Casablanca
. Rounding out the top three are
The Godfather
and
Chinatown
.
Any film, past or present, English-language or otherwise, was eligible. The resulting list is like a travelogue of the greatest films of the century, with all decades from the 1930s on represented among the rankings.
"101 Greatest Screenplays" finally set the record straight by celebrating the best in film writing and bringing recognition to the wizards behind the curtain: the men and women who wrote the greatest films of all time.
The top 10 greatest screenplays are:
•
Casablanca
•
The Godfather
•
Chinatown
•
Citizen Kane
•
All About Eve
•
Annie Hall
•
Sunset Blvd.
•
Network
•
Some Like It Hot
•
The Godfather II