'Here Comes Honey Boo Boo' Recap: Will Mama June And Sugar Bear Live Happily Ever After?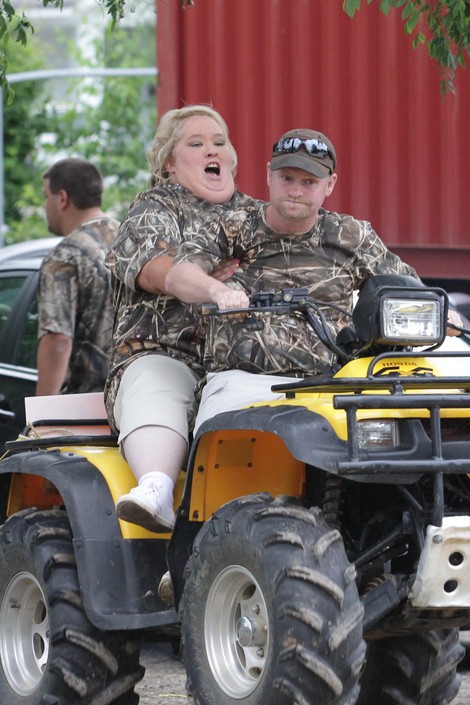 Can it really have been just two months since Honey Boo Boo and her family of loveable misfits scampered back onto our screens? America's cuddliest redneck family has had their share of adventures this summer. They have suffered through but survived patriarch Sugar Bear's serious hospitalization, explained how daughter Pumpkin's wacky life decisions may have been caused by her being struck by lightning, and endured not only the stress of choosing a family wedding wardrobe, but Mama June's first proper bra fitting. My, they've been busy!
But tonight, it all comes down to Mama June; will she finally commit to Sugar Bear? He begged her to marry him, but Mama's been hurt before – the best she can promise is a Commitment Ceremony.
Despite Mama June's "stress poops" and the torrential rains the day before the event, June has the workings in hand. She's busily assigning people their places, and instructing the wedding party to "sway" as they walk down the aisle. Only Honey Boo Boo can really work that sway, as flower girl. "Work it! Sway, baby and throw! Throw them flowers!"
Sugar Bear's terrified that June will back out before the ceremony, but she aces the rehearsal, despite the girls clowning behind her.  Pastor Dan, the redneck wedding "offiliant" has his concerns, and June's so nervous, she can't even eat their "last supper" of wieners and beans.  
To honor tradition, Sugar Bear spends his last night as an uncommitted man in a tent outside, in the cold and rain. He's so in love, he says, "I'd sleep in the sewers for her."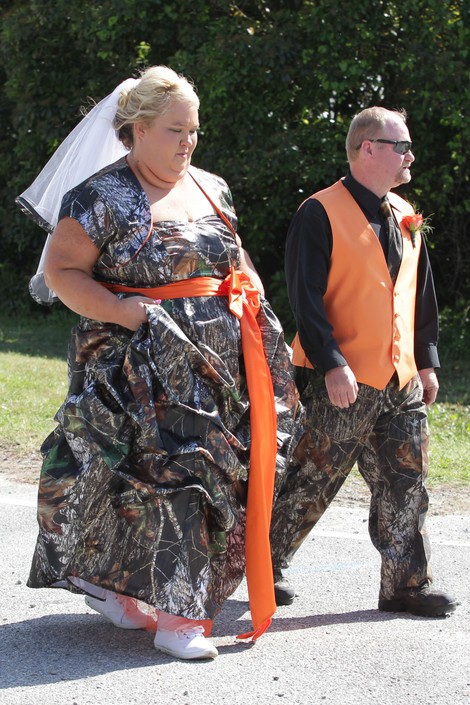 The morning of the ceremony, it's one disaster after another. At 6:00 a.m., Sugar Bear awakes, wet from the rain, and leaves for work. Mama June and the girls are up at the crack of noon, a little bleary, but ready for the big day. After days of rain, the sun finally comes out. June figures that means God really wants she and Sugar to get committed.
At the groomsmen's house later, Sugar is a nervous wreck. He's got his special outfit all ready, and he's even bought himself some new "manties" to celebrate, with "property of June" on the backside. He's looking "smexy." The color chosen for the day is camouflage and orange.
June's worked out the traditional aspects; her 'something old' is the bouquet, 'something new' is the Sno Cone truck and the candy bars. The dance floor is borrowed, and the 'big ass water slide for the kids' is blue.
Two hours before, local hair and makeup helpers arrive, to transform the girls into "hot messes," while Mama supervises the food. She's made her own baked beans, as she's picky about her beans. On the grill, a whole hog steams. With half an hour to spare, June finally allows her friends to help her get ready.
Coifed, made up, lost veil found, it's time to get June into her gown. But first, Honey Boo Boo has to get into her dress – the most expensive in the shop. "And worth every penny! I look beautimous!" says Honey. It's a multi-tiered, pink, floor length, cotton candy creation.  Even tiny Kaitlin, ring bearer, has a long ruffled pink gown, although she'll have to be carried to the altar.
Pastor Dan arrives, in the outfit June picked out for him; it's a camouflage suit covered in leaves. But why is June still fussing in the kitchen, in her stretch pants?
The girls corral Mama, and help her to get ready. Since the fork lift accident, June has not worn high heels. But her solution – of tennis shoes covered in coloured glitter – suits her just fine. And finally … finally! It's time for the dress. Orange and camo, perfect for Mama June and Sugar Bear's chosen lifestyle. With a few final burps and farts, the ladies are on their way.
Their little terrier, wrapped in pink and purple chiffon, begins the procession, as Mama June yells "Sway it! Sway it!" to her party. One by one, the girls and the groomsmen leave the house. Sugar waits for June at the altar, breathless. Anna's so nervous, she's eating the rose petals off her bouquet.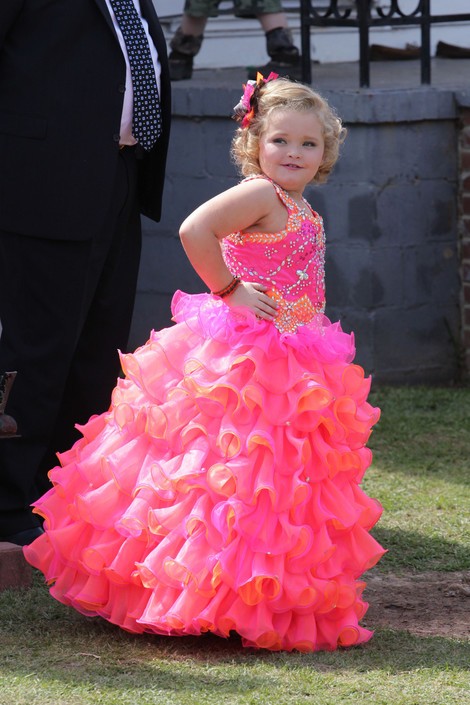 Baby Kaitlin rides to the altar in a P F Flyer red wagon, followed by Honey Boo Boo, who dances up the aisle, throwing rose petals before her, wearing a smile approved by every Southern Belle who's ever danced at a debutante ceremony.
And finally, it's time for Mama June to start her walk to her beloved. The Wedding March begins, and June panics. But as all 175 guests stand to salute her approach, she takes a deep breath, picks up her orange and camouflaged skirts, and heads for the altar, where Sugar waits, with tears in his eyes.
Pastor Dan, who's on his own third marriage, reads out the vows, which Sugar Bear and Mama June repeat. June avows that she loves and commits to Sugar. Sugar, through his tears, commits to their whole family. "You are my love, my best friend, and with this ring, I take you to be my lifelong partner."
Woo hoo! Ceremony's over, it's time to eat! Everyone drinks iced tea, served in special goblets made from mason jars – the glasses are a party gift that everyone may take home. And soon it's time to cut the wedding cake. June's sister has created a camo cake with "rainbow roses on top and crystals coming out." After June tests a bite, June and Sugar push pieces of cake into each other's faces.  
After the 'first dance,' it's time for the ceremonial removal of the garter! This may take a while. Sugar finally succeeds in removing June's garter, but only after taking a bite of her leg first. When Sugar tosses the garter, Anna's boyfriend Michael catches it. But Anna's not ready for marriage; it's hard enough having a baby, she says. When June throws her bouquet, Anna catches it. So Anna may just find herself the next in the family to tie the knot!
At the end of the day, the happy couple left on a four wheeler, bedecked with tin cans, and a "Just Married" sign, as their guests waved goodbye.