'Hercules' Actress Gaia Weiss Joins History's 'Vikings'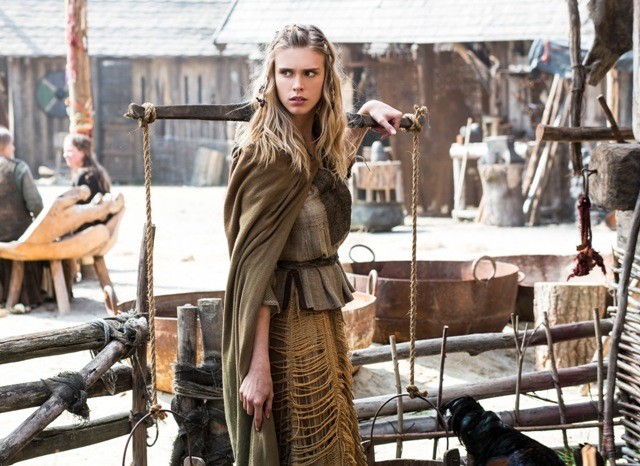 The sizeable ensemble of History's Vikings is about to add another member. Tonight, actress Gaia Weiss joins History's scripted series as Porunn, the slave who becomes a love interest for Ragnar's son Bjorn (Alexander Ludwig). We connected with Gaia last week to discuss what it was like for her to come aboard in the middle of the epic second season.
"What I really liked in Vikings in general is that female characters are strong and really interesting to play. They're complex characters," Gaia, who previously appeared in The Legend of Hercules with Kellen Lutz, told us. "Because it's my first TV show, there are a lot of things that I never did before."
But she definitely had to hit the ground running. "When you audition for a part, even though I had the first episode's script with the character [in it], you don't know much. On TV shows, you learn day after day," she explained. "I'm learning every day from amazing actors I'm shooting with."
"Before you start anything, you have to figure the character out," she continued. "When you're on set, anything can happen and you have to be ready to react. Once you've got your character, if anything happens or your partner says something to you they're not supposed to say, you have to react as your character. The only real work is that you have to figure out who she is. [Vikings creator] Michael [Hirst]'s great for that because he's often on set, and when you have questions, you can email him."
The world that Hirst created is far from a small one, though. With so many characters and multiple storylines in every episode, did Gaia even try to keep up with the totality of the show? "When you're playing your scene, you're focusing on your character's story, [but] you have to take into account everything that's happening around you," she told us. "It's fun because it's over two shores - it's what's happening in England and what's happening in Scandinavia. I met the actors that play in the English side almost at the wrap party. I didn't know who they were!"
Vikings shoots on location in Europe, far from your typical Hollywood set, and Gaia told us what it's like to work in such different locations. "It's amazing," she enthused. "Apart from the crew, everything around you is [the] Viking world. They recreate the actual villages. You're not shooting on a green screen or blue screen. It's a lot easier for an actor to just dive in and not be distracted by other things. [And] the costumes are really comfortable. You can really move in them. I really love the work of [costume designer] Joan Bergin for that."
What she's enjoyed most about taking on the role of Porunn, though, is simply the experience of it. "I'm learning every day from amazing actors. Because they're brilliant, you learn from everyone. And everyone comes from a different background and different places in the world," she said. "I'm really, really happy with my character. I've got an open field to play with."
Vikings continues its second season tonight at 10 PM ET/PT on History, which also recently announced a renewal for a third season. For more on the series, you can also check out our feature interview with series star Linus Roache.
(c)2014 Brittany Frederick. Appears at Starpulse with permission. All rights reserved. No reproduction permitted. Visit my official website and follow me on Twitter at @tvbrittanyf.