Herbie Hancock To Release His Memoir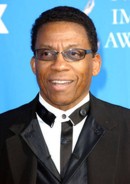 Jazz legend Herbie Hancock is set to give fans an insight into his life by releasing his memoir.

The veteran musician has enjoyed a stellar career as one of the pioneers of jazz, scooping a staggering 14 Grammy Awards and even picking up an Oscar.

He has now signed a publishing deal with bosses at Viking Press to tell all about his five decades in the spotlight.

A statement from the publishing house reads, "There are few artists in any genre who have had a career as rich and influential as Mr. Hancock's, and his memoir promises to be not only the record of a remarkable life and career but a singular chronicle of one of the most fertile periods in the development of jazz."