Herbie Hancock To Launch International Jazz Day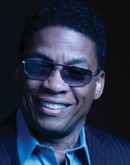 Veteran musician Herbie Hancock is set to launch a new initiative to celebrate jazz across the globe with a star-studded concert series featuring Morgan Freeman, Robert De Niro and Michael Douglas.

The legendary pianist, who is a Goodwill Ambassador for the United Nations' Educational, Scientific and Cultural Organization (UNESCO), will establish the new annual International Jazz Day on April 30th as part of Jazz Appreciation Month.

This year's inaugural event, organized by UNESCO, will include concerts in New York, Paris in France, and New Orleans, Louisiana, as well as celebrations in more than a dozen countries.

Hancock will start the day with a sunrise concert in New Orleans before flying to the Big Apple for a show which will be hosted by Hollywood actors including Freeman, De Niro and Douglas and as well as music mogul Quincy Jones.

Hancock tells the Associated Press, "Jazz has been the voice of freedom for so many countries over the past half century. This is really about the international diplomatic aspect of jazz and how it has throughout a major part of its history been a major force in bringing people of various countries and cultures together...

"I hope that this day spreads the joy of spontaneous creation that exists in this music. My feeling is that jazz will be getting its just due."