Her Universe Celebrates 'Year of the Fangirl'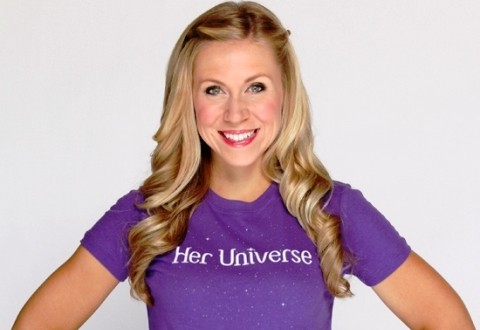 Continuing her strong commitment to fan culture, especially when it comes to women, Her Universe founder Ashley Eckstein revealed Monday the company's "Year of the Fangirl" campaign for 2013.
The initiative aims to draw attention to the ever-growing female segment of the sci-fi, fantasy and general pop culture fan world, by spotlighting different fangirls as "Fangirl of the Day" to be featured on the Her Universe website (heruniverse.com) and related social media platforms.
Starting today, people can nominate a fangirl for consideration to be "Fangirl of the Day" by filling out a short form on the Year of the Fangirl page at the Her Universe website. Submissions are reviewed by Ashley herself, alongside a panel of five other well-known fangirls: Tricia Barr, Erin Kelahan, Amy Ratcliffe, Victoria Schmidt, and Lillian Skye. A different fangirl will then be highlighted each day.
In addition to "Fangirl of the Day," the "Year of the Fangirl" will include other happenings and opportunities throughout the year, including an as-yet-unannounced event coordinated with the upcoming San Diego Comic-Con in July.
It's the latest project for Eckstein, who has established herself as one of the strongest representatives of female sci-fi and fantasy fandom through not only the Her Universe brand - which provides fan apparel for women - but her continued efforts to promote and encourage girls to be active fans. She assembled a fangirl fashion panel at last year's Comic-Con and will return as one of the celebrity hosts for this year's Star Wars Weekends. On-screen, she is best known as the voice of Ahsoka Tano on the hit animated series Star Wars: The Clone Wars.
She also joined BFTV for an interview last March as Her Universe unveiled new lines for Doctor Who and Star Trek.
You can check out Ashley's introduction to the "Year of the Fangirl" campaign below, and stay tuned for more updates on the project and other Her Universe news.
(c)2013 Brittany Frederick. Appears at Starpulse with permission. All rights reserved. No reproduction permitted. Visit my official website and follow me on Twitter at @tvbrittanyf.