Her Universe Announces 'Doctor Who' and 'Star Trek' Apparel Lines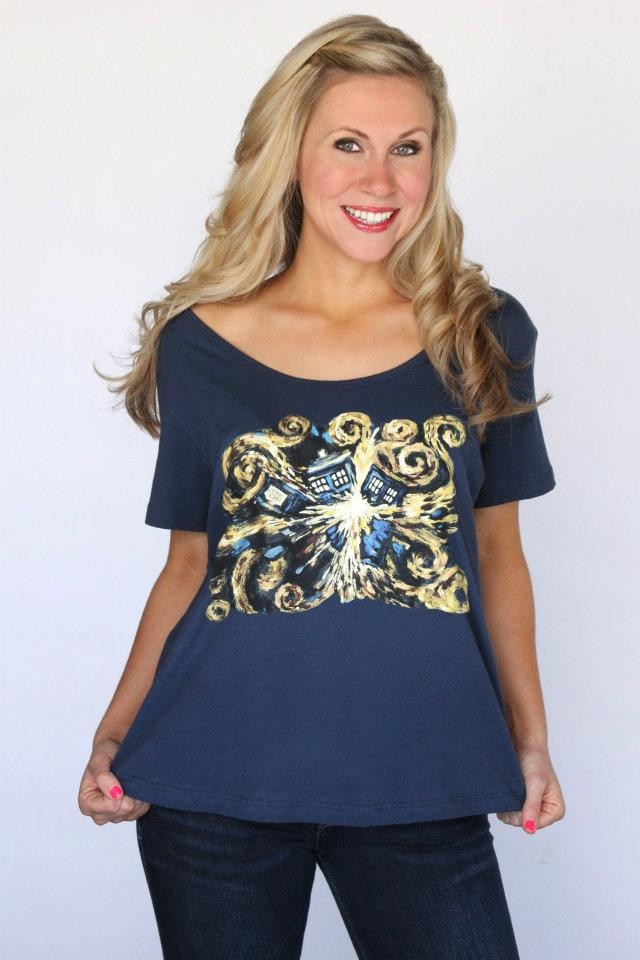 San Diego Comic-Con is less than two weeks away, and that means it's time to start announcing merch and fashion for the fans. This first announcement is a big one: Her Universe has partnered with BBC Worldwide to bring its distinctive style to Doctor Who.
The company provides female fans of science fiction properties with apparel that is oriented toward them, in everything from tops to sleepwear and accessories. Not only is it female-friendly, but it's also got plenty of style.
Their new Doctor Who line will debut on July 11 - Preview Night of Comic-Con 2012 - with fashion tops that feature characters, phrases and a unique Doctor Who logo specific to the Her Universe apparel. That includes the "Exploding TARDIS" top pictured here.
If you can't get to Comic-Con, however, don't despair: you can also purchase the clothes via the Her Universe online shop, the BBC America online shop, and through the company's retail partnership with Hot Topic.
"Her Universe is a line for the fans," said company founder Ashley Eckstein in announcing the new line. "Many of our design choices and decisions are influenced by our fans, and Doctor Who was the number one requested license by fangirls for us to pursue next.
"It was truly a dream come true when BBC Worldwide asked us to do their female merchandise and I am beyond excited to share this extraordinary announcement with our girls today! In the words of the Doctor, I feel like screaming Geronimo!"
Previously, Her Universe has provided female-friendly merchandise for popular properties like Star Wars, Battlestar Galactica and SyFy Original Movies.
For more information, you can read my Q&A with Ashley and David Eckstein about Her Universe, and also visit the company's website, Twitter and Facebook.
ETA: More exciting news - Her Universe will also be rolling out a line of Star Trek themed apparel on the same day as the Doctor Who launch! Check out the official announcement at StarTrek.com! These new designs for Trekkies will also be available on July 11 at Comic-Con and then through all the previously mentioned methods above. Way to go, Her Universe!
For more from Brittany Frederick, visit my Starpulse writer page and follow me on Twitter (@tvbrittanyf).
(c)2012 Brittany Frederick/Digital Airwaves. Appears at Starpulse with permission. All rights reserved. No reproduction permitted.