'Hell's Kitchen': Nedra Harris After Her Elimination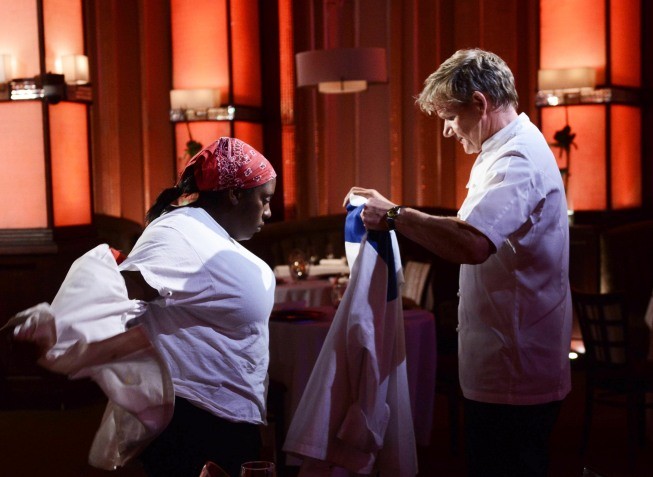 "I do not regret anything I did," said Nedra Harris when BFTV connected with her following her departure from FOX's Hell's Kitchen. "There is a reason for everything.  This is just the start for me."
The outspoken kitchen manager from Detroit got the axe shortly after agreeing to transfer from the women's squad to the men's roster, a move that she doesn't regret. "My proudest moment was stepping up and going to the blue team," she explained, adding that her experience on the show "made me realize that with a good team, you can do anything.  You don't always need to do it by yourself."
"It was totally worth it. It confirmed what I want to do with my career in the future," Nedra continued. "My favorite memory was the first day, meeting Chef [Gordon] Ramsay in front of hundreds of people. I had a different bond with each contestant. I would love to work for Chef Andi [van Willigan] one day!"
She told us that her favorite Ramsay moment was "When he pulled me to the side and told me he saw potential and believed in me.  [He said] 'Don't let the pressure get to you and always remain the chef you were when we met.'" She also learned one thing about the would-renowned chef that surprised her: I didn't know he had a sense of humor!" she added. "He was really funny."
For now, Nedra is working at the Tower of the Americas in San Antonio, Texas, and is also active with a number of charities, including the March of Dimes and Susan G. Komen Foundation. Hell's Kitchen fans can keep up with her further exploits by visiting her website (chefnedra.com) and, of course, following her on Facebook and Twitter (@NedraHK11).
And if you're wondering, she's just as outgoing in real life as she was on the show. "What you saw is who I am," she confided. "I think it made it exciting - you never knew what was going to come out of my mouth!"
Hell's Kitchen continues tonight at 8 PM ET/PT on FOX.
(c)2013 Brittany Frederick. Appears at Starpulse with permission. All rights reserved. No reproduction permitted. Visit my official website and follow me on Twitter at @tvbrittanyf.