'Hell's Kitchen': Jacqueline Baldassari After Her Elimination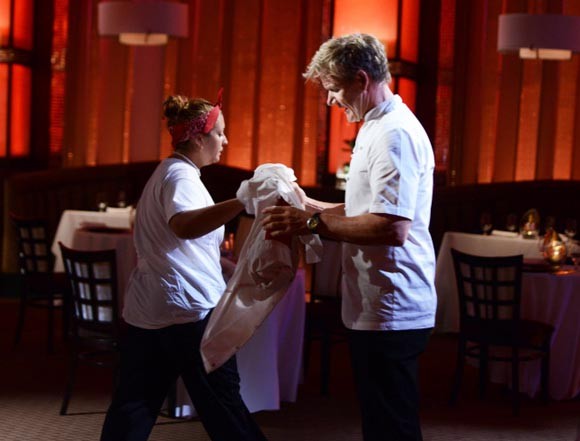 Last Tuesday, Jacqueline Baldassari became the next chef to be chopped from FOX's Hell's Kitchen, and she later joined BFTV to talk about it. "I watched the show on and off.  I anticipated craziness," said the 27-year-old roundsman from Florence, New Jersey. "It was up to me on how I was going to deal with it."
"I think I was a very creative and strong chef.  Every challenge I received a point," she continued, but added that "I would've liked to have become more comfortable faster. I was so nervous at first I couldn't think straight."
Nerves clearly didn't get in Jacqueline's way at least initially, as she impressed during the season-opening signature dish challenge that is a staple of Hell's Kitchen. "Winning the first challenge for the whole team in Las Vegas was epic," she enthused, "[with] my signature dish of Magret duck breast, caramelized brussel sprouts, sweet potato rosti, [and] currant au jus. Everyone has to try Magret duck breast [when it's] perfectly cooked. It is amazing."
What was her favorite experience working with the legendary Chef Gordon Ramsay? "My favorite moment was when Gordon wasn't screaming at me," Jacqueline told us with a laugh. "Seriously, [it was] any time he was teaching us how to do something.  If it was how he wanted [something] to look or taking the meat out of a lobster's legs. I always love to learn."
If you're looking for her after the show, "Currently, I am the Executive Chef/Consultant for the Ivy Inn in Princeton, New Jersey," explained Jacqueline, who can be found on Twitter at both @JacquelineHK11 and @ChefJackieB, and also on Facebook under chefjacqueline.
"In the grand scheme, I'd like to open a restaurant of my own in three years," she continued. "My favorite chefs are the people who open a restaurant and make simple but amazing food every day.  I go to this place in the ghettos of Trenton, Blue Danube. 30 seats and a small bar [with] four stools in a converted house.  Peter Pulhac and his wife Margaret have been there 22 years. These are the people I idolize."
"Check out small restaurants," she enthused. "I am anti-chain."
What was the biggest lesson Jacqueline learned from Hell's Kitchen? "I take away that you must be always passionate about your food," she said. " The more you care, the better product your co-workers are willing to turn out with you."
Hell's Kitchen continues tonight at 8 PM ET/PT on FOX.
(c)2013 Brittany Frederick. Appears at Starpulse with permission. All rights reserved. No reproduction permitted. Visit my official website and follow me on Twitter at @tvbrittanyf.