'Hell's Kitchen': Dan Ryan After His Elimination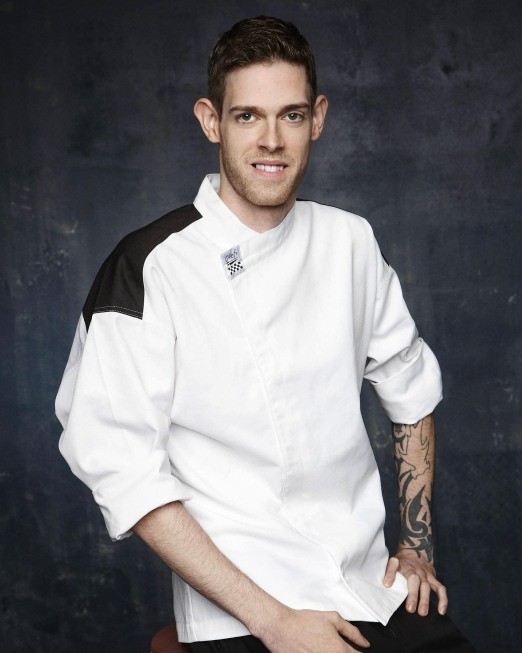 He was the chef everyone loved to hate - now following his dismissal from Hell's Kitchen, BFTV caught up with Dan Ryan to find out if he really was that despised, and what he'll remember about his stint on the show.
First things first: Dan informed us that the vitriol audiences noticed on screen wasn't manufactured TV drama. "What you saw was definitely that accurate," he said. "There was like a gang mentality. I feel like they [the Blue Team] have a target every time. It was Jeremy [Madden], and then it was my turn, and there'll be someone else next."
Having said that, though, there are members of the men's squad that Dan has love for, even though he's no longer part of their ranks. "I have a lot of respect for Ray [Alongi] even though he and I had our differences. He's really talented," he added. "I'm curious to see what happens with Barret [Beyer]."
He might have been at the center of plenty of conflict, but to cast Dan as simply a TV villain is a mistake. Hell's Kitchen fans know that the New York native has no shortage of confidence - at one point comparing himself to Charlie Sheen - but he is also willing to own the mistake that ultimately sent him home. "I wish I had studied how to cook pizza more than just putting DiGiorno in the oven," he quipped, referring to his demise on the pizza station. He's not about to say that he's infalliable.
If you want to check out Dan's cooking for yourself, he's currently at the Hotel Beacon NYC, located in New York's historic Upper West Side. "New York City's full of good restaurants," he enthused. "X20, where I used to work, is an amazing restaurant. I've heard very good things about the Lambs Club in Manhattan."
And when he's not in the kitchen, he's having fun with the side effects of his national exposure. "I answer pretty much all my mail, especially the hate mail," he revealed. Indeed, his Twitter feed is full of unapologetic, often laugh-out-loud funny responses to the various haters. ("I might have a bad attitude, but I also have a great ass," is one retort.) Love Dan or dislike him, you have to at least respect that he isn't shying away from anything.
Although he didn't get the job opportunity that will be awarded to the season's winner, and he's not going to be named Mr. Congeniality either, Dan doesn't regret signing up for Hell's Kitchen. "I'm happy I did the show. Everyone who did the show is a winner just for being there," he continued. "It's really about the food. [Gordon Ramsay] said I can cook and he can't unsay that."
He's even okay with his abrasive reputation, adding, "I got compared to [The Apprentice villain] Omarosa, and you know what, I'll take that." Whatever comes next for this polarizing yet charismatic chef, one thing's for certain: Hell's Kitchen will definitely be less interesting without Dan around.
You can keep up with Dan on Twitter (@chefDanRyan). Hell's Kitchen continues tonight at 8 PM ET/PT on FOX.
(c)2013 Brittany Frederick. Appears at Starpulse with permission. All rights reserved. No reproduction permitted. Visit my official website and follow me on Twitter at @tvbrittanyf.