'Hell's Kitchen': Anthony Rodriguez After His Elimination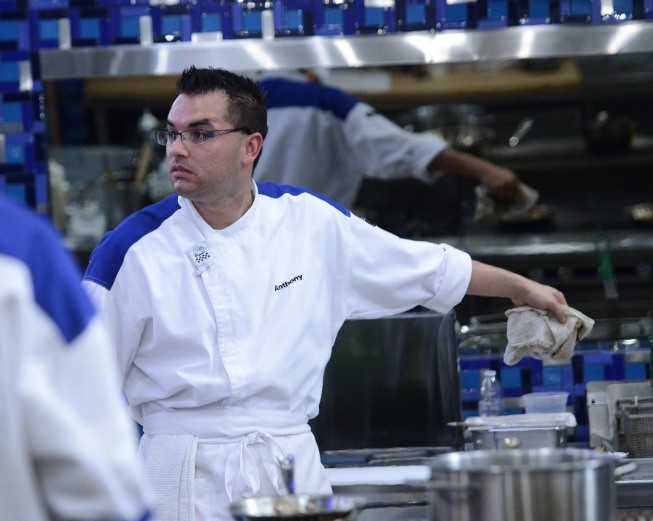 The men keep falling on Hell's Kitchen. Last week, the cooking competition said goodbye to 27-year-old line chef Anthony Rodriguez, despite his best efforts to hold the guys' Blue Team together. Anthony joined BFTV earlier this week to discuss what went wrong, what he learned, and where he's at now that he's out of the fire.
The New Orleans native echoed earlier comments by his teammates that the Blue Team wasn't always functioning as a team. "Our communication just wasn't there. When we were in sync, we were amazing, but we lacked that constant leading voice in the kitchen to pull us all together," he said. "I would've stepped up and taken charge of the team much more."
"I definitely gave it my best," he continued. "I performed to the best of my abilities [and] was very happy with all my work. A personal point of pride for me was having Chef (Gordon) Ramsay tell me that he admired my passion and hasn't seen that kind of dedication and drive in a chef in a long time. I pride myself on my passion for cooking and the industry, and that was just amazing."
Speaking of Chef Ramsay, we asked Anthony to give us his opinion of the legendary chef who drives Hell's Kitchen. "Chef Ramsay is an incredible guy, an amazing chef and hilarious to boot," he told us, citing Ramsay as one of his inspirations (the others being Hubert Keller and "every chef I met in Hell's Kitchen"). "He loves giving high fives. Hearing Chef Ramsay's story about the restaurant he opened in his hometown failing was something I took to heart - he's not perfect and it really humbled him. It drove him to be as perfect as he can be, and I plan on doing the same."
To that end, he's taking his time spent on the show as a learning experience, explaining that it "absolutely has" changed how he operates. "Hell's Kitchen brought out the leader in me and showed me that I have a lot more to offer in a kitchen that just working a line," said Anthony, who can be found on Twitter (@AnthonyHK11) and on Facebook (chefanthonyrodriguez). "It showed me that I can be a great leader in the kitchen and (I) can't wait to show that off."
Hell's Kitchen continues Season 11 tonight at 8 PM ET/PT on FOX.
(c)2013 Brittany Frederick. Appears at Starpulse with permission. All rights reserved. No reproduction permitted. Visit my official website and follow me on Twitter at @tvbrittanyf.